We covered a number of game-related topics this past week at TG Daily, including Iron Will's Peregrine gaming glove, EA's Saboteur, a PS3 firmware update and Epson's ultimate gamer.
Gaijin launches Wings of Prey beta
Gaijin Entertainment launched a beta version of its long-awaited WWII combat flight simulator. The game – aptly dubbed "Wings of Prey" – allows players to participate in a number of large-scale aerial operations over war-torn Europe, including The Battle of Britain, Stalingrad, Ardennes, Berlin, Sicily and Korsun.
??Iron Will deploys Peregrine gaming glove
??Iron Will Innovations finally introduced its Peregrine gaming glove. The device allows gamers to easily maneuver, strike or cast spells by simply tapping their fingers.
AMD runs Dragon Age: Origins at 5760×1200 ??
AMD released an HD video of Dragon Age: Origins being played on three monitors at a resolution of 5760×1200. According to AMD spokesperson David Baumann, the demo system was powered by a Radeon HD 5800 GPU and ATI's advanced Eyefinity technology.
EA's Saboteur infiltrates the Third Reich ??
Pandemic Studios released The Saboteur into Nazi-occupied Paris. EA spokesperson Nick Earl explained that the game portrays a war-time city that is corrupt, riddled with danger and "more than a little" sexy.
?
"The Saboteur is set in World War II France and takes players through the seedy underbelly of Paris as hero Sean Devlin sets off on a revenge mission."

?
Playboy comes to the iPhone ??
Playboy unveiled an app for the iPhone that reportedly offers easy access to a number of magazine articles and clothed photo shoots.
EA resurrects Dead Space 2 ??
Visceral Games announced the next installment of its Dead Space franchise. According to Electronic Arts, Dead Space 2 is expected to feature an reinvigorated Isaac Clarke who has taken his deadly and bloody battle to the Necromorphs.
Sony previews PS3 firmware update ??
Sony confirmed that its next PS3 firmware update (3.15) will offer support for "minis" and include a data transfer utility.
"We launched minis for PSP back in October but from the 17th December you will be able to enjoy these bite size games on your PS3 as well as your PSP. This firmware update allows the minis emulator to work on PS3 and we are working on getting the majority of the current minis ready for the PS3 from the 17th December," explained Playstation spokesperson James Thrope.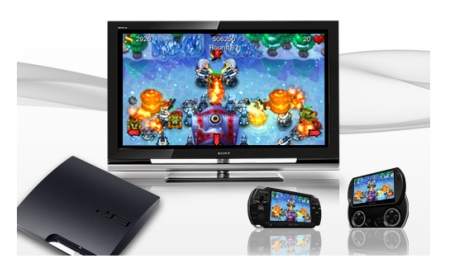 EA has high hopes for Mass Effect sequel ?
Electronic Arts CEO John Riccitiello stated that EA expects Mass Effect 2 to be one of the "biggest games" of 2010. ?
?
Epson creates the ultimate gamer ??
Epson released a video of an "extreme" gamer wearing a PS3 Slim, EH-TW450 projector, wrist-guards, knee-pads and a portable battery pack. The projector – which has a 3000:1 contrast ratio – is used to display Need for Speed on a living room wall, city buildings, clubs, and yes, even a wind tunnel.??
?