W00t! The Science Channel recently acquired the rights to Joss Whedon's Firefly and will be airing the popular series alongside commentary from physicist Dr. Michio Kaku – who has been tapped to analyze the theoretical science behind the short-lived show.
Meanwhile, Nathan Fillion, aka "Malcolm Reynolds," told Entertainment Weekly that he would be more than happy to star in any future reboot of FireFly.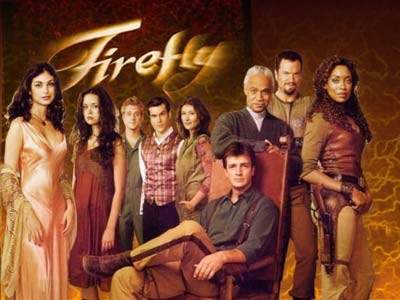 "[If there was a reboot and if I was asked], I would examine very closely Fox's reasoning – [because] I'm [just] a little gun-shy," said Fillion.
"[But] if I got $300 million from the California Lottery, the first thing I would do is buy the rights to Firefly, make it on my own, and distribute it on the Internet."
Fillion added that playing Capt. Mal was his "favorite job" ever.
"What wasn't great about it? I got to wear a low-slung holster. I got to ride horses. I got to have a spaceship. I got to act mean and curmudgeonly.
"[Whedon] is really good at kicking characters in the nuts so the other characters would have laughs at my expense and that was [certainly] great too."
Firefly's two hour pilot is slated to premiere on March 6 at 8PM, followed by the first episode at 10PM. Subsequently, the series will air every Sunday until the last episode has been shown.