When Disney goes for something, it really goes all the way. And having found early success with Blu-ray 3D, it's now planning an avalanche of titles, including going into the vault and turning classic 2D movies into 3D.
Yeah, Disney made that copy of Lion King you have on VHS totally irrelevant when it released a special edition Laserdisc. And that became irrelevant when Lion King came out on DVD. But everything will become obsolete when it gets released on Blu-ray 3D later this year.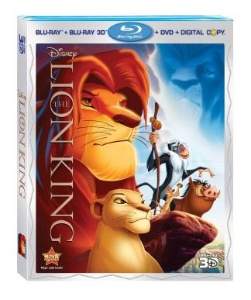 And that's just the beginning. It's the very first business day of 2011 and Disney has already announced 15 new Blu-ray 3D titles that will be coming out this year. Some of them, like Tron: Legacy and Tangled, are to be expected. But others are kind of out of left field.
Here's a glance at some of Disney's legacy films that are being totally remastered in 3D specifically for the Blu-ray 3D format:
– Bolt

– Meet the Robinsons

– G-Force

– Chicken Little

– The Lion King

– Beauty and the Beast

– The Nightmare Before Christmas
"As our contemporary library of 3D content continues to grow, and the original artists and filmmakers meticulously 'dimensionalize' their work for release on the Blu-ray 3D format, we will be offering movie-lovers the most incredible in-home entertainment experience they will ever have," said Disney executive VP Lori MacPherson.
This marks the first time the Blu-ray 3D format has been used for a movie that was not theatrically released in 3D, and provides more hope for the format amidst a lot of confusion in 3D space right now.
Disney released Alice in Wonderland, A Christmas Carol, and Step Up 3D on Blu-ray 3D in time for the holiday season and assumedly sold well enough for the studio to devote a whole bunch of resources to the task of 3D conversion over the next several months. [[Disney]]