Pharmaceutical company Bayer is now setting its sights on the DS by creating a special peripheral that allows users to test their blood glucose level.
The meter will come packed-in with the upcoming DS game Knock Em Downs: World Fair. The game follows two characters who attempt to save the fair from an evil henchman.
There's seemingly no thematic integration of blood-glucose testing in the game, but by checking regularly, users will unlock extra features and new characters.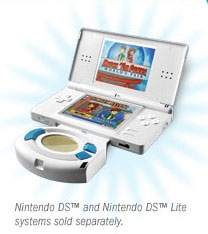 The game is made by a company called Guidance Interactive Healthcare. In 2007, it launched a blood glucose meter with an LCD screen that plays video games, called the Glucoboy.
With over 120 million DS units sold in the US and nearly 24 million diagnosed with diabetes, this product could strike a large enough chord to make a mark.
The peripheral only works with the DS and DS Lite, however, and is not compatible with the newer DSi and DSi XL models. That's because it plugs into the GBA cartridge slot that was stripped in the later models.