Some of my favorite films are time travel stories, including The Time Machine, Terminator, Time After Time, and of course Back to the Future, which thankfully still holds up well today. 


Many current filmmakers love the early Amblin films that came from this period, including Future, Goonies and Gremlins.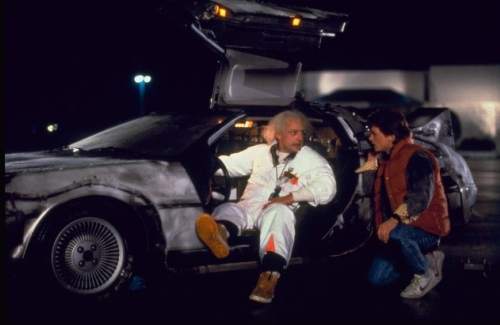 And yes, Back to the Future had great chemistry with its cast (Michael J. Fox, Christopher Lloyd, Lea Thompson, and Crispin Glover), producer (Steven Spielberg), writer (Bob Gale), and director (Robert Zemeckis).
Writing directing team Robert Zemeckis and Bob Gale first got together at USC film school in 1971. (John Carpenter was in the class ahead of them.)
They first broke in writing for television, and when Spielberg came down to USC to show his first theatrical feature, Sugarland Express, Zemeckis broke into his office to show him his student film, Field of Honor.
The two Bobs became friends with John Milius, screenwriter of Apocalypse Now, and Spielberg heard about the screenwriting team from Milius, and Steven remembered Zemeckis from the USC days. Zemeckis and Gale wrote 1941 for Spielberg, and Spielberg also produced Zemeckis's directing debut, the under-rated I Wanna Hold Your Hand, which created a fictional backstory around the Beatles first appearance on Ed Sullivan.
1941, I Wanna Hold Your Hand, and Used Cars, which had the second best sneak preview in the history of Columbia Pictures, all flopped, and it was tough for Zemeckis and Gale had a tough time setting up Back to the Future when the script first went around in the Fall of 1980. They got over forty rejection letters, and were told time travel films didn't make money, and the story was "too sweet and nice" when comedy was entering the age of raunch with Animal House and Porky's.
It was even recommended to Zemeckis and Gale to pitch it to Disney, because people who read it thought it was a Disney film, like The Computer Wore Tennis Shoes. Thankfully, after the mega success of E.T., Spielberg became the new Walt Disney, and he wanted to get Back to the Future set up for Zemeckis and Gale. But Zemeckis had to prove on his own he was a success, because if Spielberg produced Back to the Future after he produced 1941, Used Cars, and I Wanna Hold Your Hand, the word around town would have been Zemeckis couldn't get a movie made without Steve's help.
Zemeckis finally had success on his own directing Romancing the Stone, and many people in Hollywood finally wanted to be in business with him, but out of loyalty he went back to Spielberg, telling Gale, "I don't want to make it with my fair weather friends. Let's take it back to the one guy that always believed in it."
Michael J. Fox was doing double duty shooting Family Ties during the day, Back to the Future at night, stealing sleep wherever he could, and according to the book Blockbuster, post production was a mad dash rush to finish the movie so it could be ready for the Fourth of July weekend. Because the previews went so well, Universal had moved it up from August. 

"We were in the theaters nine and a half weeks after we wrapped photography," said Gale. "It was insane."
Back to the Future was a huge hit worldwide, making $210 million domestic, $170 foreign. I certainly understand the nostalgia of the early Amblin films, and can still recall seeing Back to the Future, Gremlins, and Goonies, and how much fun I had my first time seeing them. Would love to hop into Doc Brown's DeLorean and go back there myself.