This certainly isn't the first real world, drivable Warthog we've seen based on the fighting vehicle from the Halo video game franchise.
In fact, we've taken several looks at working Warthog built for the moribund Halo film that was ultimately used in the Forward Unto Dawn online series.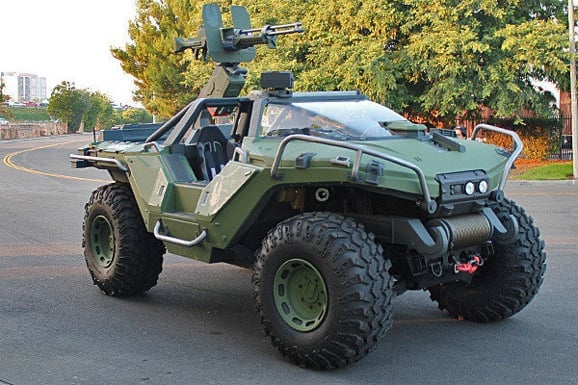 Personally, I'm glad to see other Warthog vehicles coming to life. Interestingly, the latest Warthog was built at the request of 343 Industries, the developers behind the Halo 4 game. The Warthog was constructed by the Aria Group, which also designed vehicles for Transformers 3 and other Hollywood films.
Frank O'Connor, 343's franchise development director, and a 10-year Halo vet, says, "We really just wanted to build something that people could literally see and touch and reach out and enjoy."
This project was far from cheap with a budget that went into the hundreds of thousands of dollars for a build which took six months to complete. The vehicle is constructed around the chassis of 1996 Hummer H1, and yes, the re-creation is quite accurate, all down to the fake nuts and bolts, gauges, dials, and switches – both on the outside and inside of the vehicle.
The finished Warthog measures eight-feet wide and 17-feet long on with gigantic 49-inch tires. The Hummer that donated its chassis for the project is fitted with a V-8 engine. If you're wondering how fast it goes, well, apparently the builder says keep it around 25 mph due to safety concerns.
However, the Warthog will go faster than the 68 mph top speed of its virtual counterpart in the video game if you stick your foot in it. As for myself, I still prefer the looks of the Warthog from the Forward Unto Dawn series.