No, I don't follow Twilight and I haven't read any of Stephanie Meyer's books. 

Still, news about the film adaption of The Host interests me for one reason: Andrew Niccol, of In Time fame, will be directing it.
I've always enjoyed Niccol's work, which includes the very under-rated Gattaca, and The Truman Show (which he wrote, with Peter Weir directing), simply because I admire his unique sci-fi vision.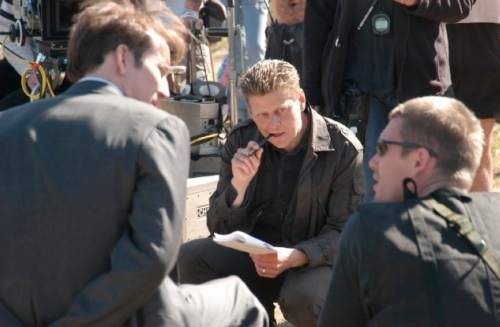 While I'm not sure if he and Stephanie Meyer are a good match, it's certainly a distinct combination that could potentially yield some interesting results.



As noted above, Niccol wrote the screen adaptation of The Host and will also be directing the film. 

In addition, The Host has apparently chosen its male lead, Jake Abel, who, judging by his promo photo, should drive all girls on the edge of 14 gaga.
And as Deadline reports, another male lead who was in the running, Liam Hemsworth, has a featured role in The Hunger Games and is also one of the chosen few up to play Bruce Willis's son in A Good Day to Die Hard. The role finally went to Max Irons, a young British actor who had a role in Red Riding Hood.



So what exactly is The Host, for those who aren't Twilight inclined?
According Entertainment Weekly, it was published in 2008, and it's about a girl named Melanie in her twenties who is possessed by an alien named Wanderer. Saoirse Ronan (Hannah) will play the possessed, and the possessor in dual roles. 

The Host starts shooting in February and is scheduled to hit theaters on March 29, 2013.



And right before the premiere of Twilight Breaking Dawn Part 1, hundreds of fans have already been lining up, and setting up tents days in advance. 


Apparently these fans are known as "Twihards," and as Nikki Finke writes on Deadline, "Do not diss these fans. Given the sickly state of the North American box office, an event pic like this may be just what the doctor ordered."