The 69th edition of Cannes Film Festival, the most prestigious and electrifying film festival in the world is starting today, and we are mighty exhilarated about it. This year, the bouquet, yet again features the boldest and the brightest filmmakers across the globe coming down with their offerings.
Here are a few titles we just can't stop talking about, and surely can't wait to watch.
The Red Turtle
A still from the animated film The Red Turtle (Photo: Twitter/@DgQuimera)
When Studio Ghibli announced a temporary stop in their production, our planet became sad. But with The Red Turtle, there is hope. Michaël Dudok de Wit's ecological fable is the first international co-production of Ghibli, and the released stills reflect why Japan's premiere studio chose it to be so. Following a castaway in a tropical island, this dialogue-free film was reportedly created under the oversight of Isao Takahata. Expect beauty of transcendental depth.
The Handmaiden
Based on the novel Fingersmith by Welsh writer Sarah Waters, Park Chan-Wook's next will follow a female pickpocket, who gets hired by a charming con-man to seduce a wealthy Japanese heiress. Instead of the Victorian setting of the original novel, this scam will take place in Korea under Japanese colonial rule. The director has spoken about the unusual texture of the film to exist in his filmography, and the trippy trailer looks like unbridled fun.
The Wailing
All eyes will be on Park Chan-Wook, but his countryman Na Hong-Jin is no lesser mortal. His last two films, The Chaser (2008) and The Yellow Sea (2010) were deliciously violent excursions in the thriller genre, and his latest, another detective tale, too looks a creepy, grisly vehicle of thrills. As we all know, South Korea really knows how to make thrillers.
Julieta
There are very few directors in the world of cinema who can rival Pedro Almodóvar's understanding of spirited women. The Spanish auteur is back to the fold of women-centric tales, adapting a trio of short stories by Canadian writer Alice 'heartbreaker' Munro. Featuring Emma Suárez and Adriana Ugarte as older and younger versions of the film's guilt-ridden protagonist, the Almodóvar's 20th feature has already opened to positive reviews in his home country. We are eagerly waiting for its warmth.
Elle
Paul Verhoeven's directing Isabelle Huppert as a woman who begins stalking her rapist sounds as crazy as the filmmaker's virulent oeuvre. Either it will be booed or it will be too hot to handle. Bring it on.
Endless Poetry
Film poster: Endless Poetry
Critics and fanboys are really waiting to be dazzled by this year's oldest entrant, Alejandro Jodorowsky. The filmmaker is looking back at his life, through an autobiographical lens to present a tribute to Chile's artistic heritage in a coming-of-age yarn. And if the buzz is to be believed, it's one of his best his work in years.
After the Storm
The spiritual descendent of Ozu, Hirokazu Koreeda's every new entry is a rousing event for cinefans. Telling a tale of an indolent middle-aged dreamer who struggles to balance his old and new familial bonds, the Japanese master is yet again wants us to go on a contemplative journey.
Paterson
We are blessed that Cannes is premiering two Jim Jarmusch entries this year. Gimme Danger, the Iggy Pop documentary will feature in the Midnight screenings, and Paterson, the feature film about a bus driver who is also a poet, will compete for the the Palme d'Or. Featuring Adam Driver and Golshifteh Farahani, Paterson may take us back to the rhythmic adventures that Jarmusch is so revered for.
Staying Vertical
Promotional still: Staying Vertical
The plot concerns a filmmaker who finds himself alone, with a baby to care for, a fairly simple premise. But Alain Guiraudie who stunned us with his erotic thriller Stranger by the Lake in 2013, can never be taken lightly. Jumping from Un Certain Regard to the main competition shows that the filmmaker is only upping his game.
Neruda
Not a conventional biopic of Pablo Neruda, but an ambitious mix of politics and noir, Pablo Larraín wishes to capture the eminent poet on the run for his communist allegiance, and how he defined his identity as a human being. Larraín has been a commanding voice for mixing style with powerful subjects, and Neruda appears to be a very potent one.
Aquarius
Promotional still: Aquarius
If you are one of the rare people who have seen Neighbouring Sounds, you know Kleber Mendonça Filho is a filmmaker who holds great promise. The Brazilian filmmaker is ready to compete for the Palme d'Or with his film about a music critic fighting it out with a property developer. May be this time, he will get the wide audience he deserves.
The Unknown Girl
Promotional still: The Unknown Girl
Creators of passionately naturalistic films about working class life in Belgium, the Dardenne Brothers' next will tell us a story of a young doctor who, after refusing a young woman as a patient, grows determined to discover her identity when she is found dead. The duo knows how to wring us through leftist subtlety.
The Salesman
Promotional still: The Salesman
Known for weaving allegorical tales within the walls of domesticity, Asghar Farhadi is one director who can give Hitchcock a moral dilemma. His next will focus on a married couple whose lives will become tumultuous thanks to an incident linked to the previous tenant of their Tehran apartment.
It's Only the End of the World
Promotional still: It's Only the End of the World
The Quebec wunderkind who stormed Cannes in 2014 with Mommy is all set this year with a starry ensemble. Based on the play by Jean-Luc Lagarce, the film is about a terminally ill writer who returns home after a long absence, and how his impending death affects the reunion. The cast includes Gaspard Ulliel, Nathalie Baye, Marion Cotillard, Léa Seydoux and Vincent Cassel, literally the who's who of French cinema.
The BFG
You don't go to Cannes for popcorn flicks. But Steven Spielberg making a comeback to big family adventure is definitely special. This time, he is aided by Melissa Mathison's screenplay who penned E.T. the Extra-Terrestrial more than three decades ago. Based on Roald Dahl's beloved novel, it is a tale of friendship between Big Friendly Giant and a little girl. Looks like a good time for the young and the old.
India Corner at Cannes 2016
Raman Raghav 2.0
Anurag Kashyap's Raman Raghav 2.0, about a 1960s Mumbai serial killer played by Nawazuddin Siddiqui, will lead the Indian pack with its premiere in the Directors' Fortnight section. This is the director's third entry in the same section following Gangs of Wasseypur and Ugly in 2012 and 2013 respectively.
Gudh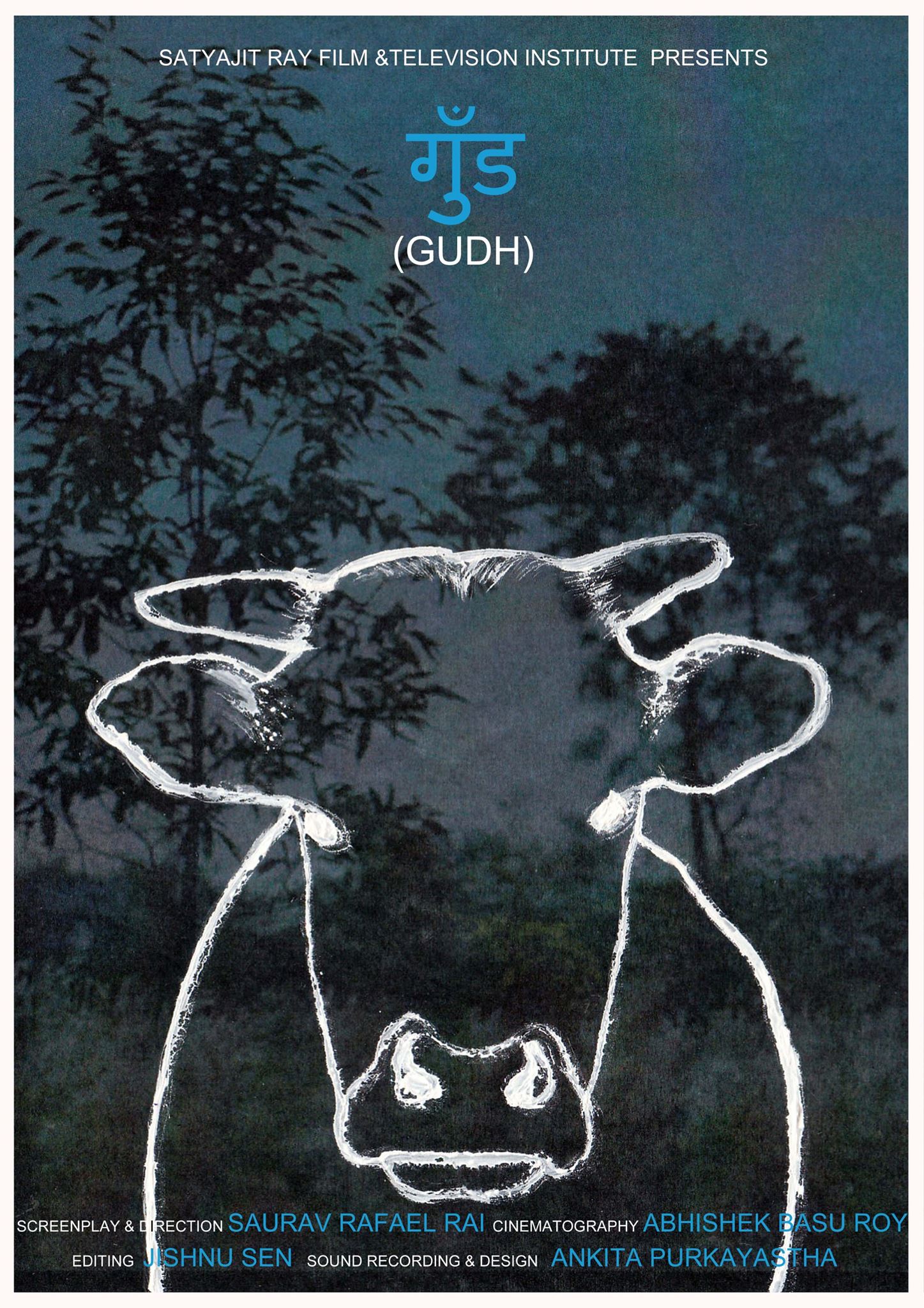 Film Poster: Gudh
Saurav Rai's Nepali-language diploma film Gudh (Nest) will open in the Cinefondation competition. Rai who is a student of Kolkata's Satyajit Ray Film & Television Institute (SRFTI) wishes to capture his growing up years in Darjeeling with its political turmoil in the backdrop in his 28-minute film.
The Cinema Travellers
Film poster: The Cinema Travelers
A documentary on Maharashtra's travelling tent theatres, Shirley Abraham and Amit Madheshiya's film is an effort to document the winds of change in the once-thriving mode of entertainment in the digital era.
(The writer is a journalist and a screenwriter who believes in the insanity of words, in print or otherwise. Follow him on Twitter: @RanjibMazumder)