Marvel Studios has released a number of images teasing its upcoming super hero sequel.
The film is expected to complete the Iron Man's primary arc, while solidifying the character for the remainder of this particular version of the franchise. True, we don't know for sure if this is the final film to feature Iron Man as the primary protagonist, but it does seem that it will be a classic trilogy end, closing an arc of character development which has brought Tony Stark from an irresponsible genius playboy to a true hero of the people.
Undoubtedly, a central conflict of the film will be the decline of Stark's company and fortune. It'll be interesting to watch the character brought down a few pegs, and ultimately made to be more humble. I wonder if we'll see any genuine changes to the persona that will be reflected in future Marvel Film Universe projects, or if, after this arc is over, his character will revert a bit, as it always does in the comics.
Mostly these new images are stills from scenes that we've already seen in the extended teaser for the film, but one of them is new – a look at the role Rebecca Hall plays. As you may recall, Maya Hansen is a friend of Tony's, a micro-biologist and roboticist, and the inventor of Extremis, a nano-tech which will feature in the conflict of this film, based partially on the graphic novel, Extremis.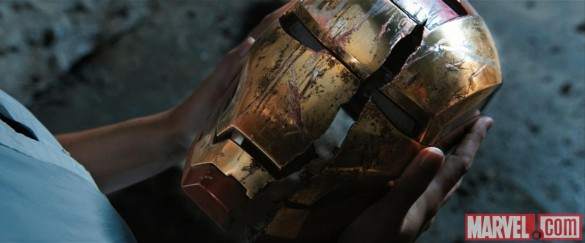 The studio has also released this short-form synopsis:
Marvel Studios' Iron Man 3 pits brash-but-brilliant industrialist Tony Stark/Iron Man against an enemy whose reach knows no bounds. When Stark finds his personal world destroyed at his enemy's hands, he embarks on a harrowing quest to find those responsible. This journey, at every turn, will test his mettle. With his back against the wall, Stark is left to survive by his own devices, relying on his ingenuity and instincts to protect those closest to him. As he fights his way back, Stark discovers the answer to the question that has secretly haunted him: does the man make the suit or does the suit make the man?
and here is the extended teaser:
Iron Man 3 hits theaters May 3, 2013.