The BBC's official Doctor Who Magazine has run the writer director list as it stands for 2013.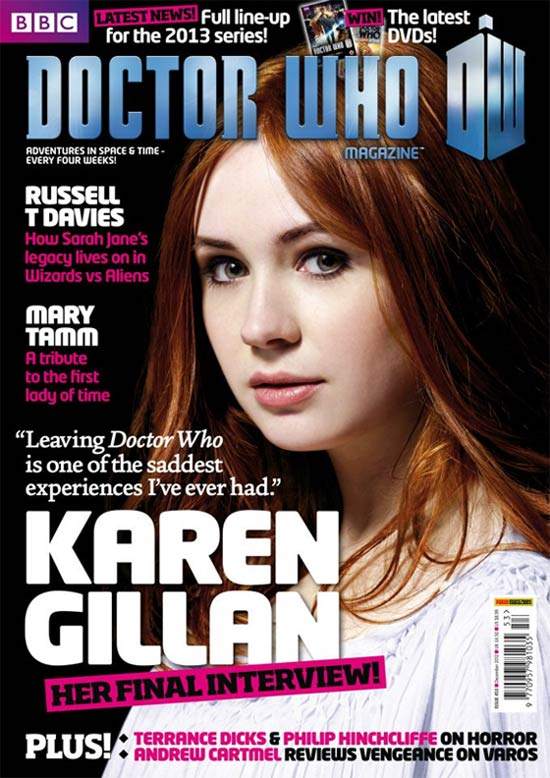 The list confirms the writers and directors of each episode, its filming status and play order – including the exact episode that popular fantasy author Neil Gaiman has written.
We don't have titles for the episodes yet, but the magazine hintst those may be listed in the magazine itself, alongside a 'final' interview with Karren Gillan, if you go buy a copy when the next one comes out this month.
* 706. Written by Steven Moffat. Directed by Colm McCarthy. (Filming now)
* 707. Written by Neil Cross. Directed by Farren Blackburn. (Not filmed)
* 708. Written by Mark Gatiss. Directed by Douglas Mackinnon. (Filmed)
* 709. Written by Neil Cross. Directed by Jamie Payne. (Filmed)
* 710. Written by Stephen Thompson. Directed by Mat King. (Filmed)
* 711. Written by Mark Gatiss. Directed by Saul Metzstein. (Filmed)
* 712. Written by Neil Gaiman. Directed by Stephen Wolfenden. (Not filmed)
* 713. Written by Steven Moffat. Directed by TBA. (Not filmed)
Note that most of the remaining series (season) has already finished filming, which is a bit of a surprise since we haven't yet seen any sneaky photos from spies on the set, with the exception of 706, which isn't actually finished yet. This either means the episodes were kept very secret or they were filmed mostly indoors, with the latter being the most likely reason.
The list also clarifies that these are the only episodes which will be shown in 2013, confirming earlier suspicions that Doctor Who will only be doing half of a series each year going forward. Meaning, series 8 will likely be split between 2014 and 2015, though we know we'll be getting some kind of 50th anniversary special in between series 7 and 8, probably in the Summer of 2013, though I wouldn't put it past them to put it off to the Winter.
Not surprisingly, the two episodes written by Showrunner Steven Moffat are the holiday special, in which the new companion, played by Jenna-Louise Coleman, will be introduced, along with the finale.
Gaiman's episode has been given a coveted spot as the second to last episode in the series. His previous episode for the show, The Doctor's Wife, is not only the most popular episode of the show in several magazine polls, but is the only episode of Doctor Who to have been nominated for a Hugo award, so it will be exciting to see what he's come up with this time. There are some rumors that his plot will involve the return of the CyberMen, but I find it unlikely personally. The Doctor's Wife was so original, and included so few elements of previous lore, that I would be surprised if he used any existing Who villain.
The second half of the series begins in the new year, but in between we'll have that holiday episode, listed above as 706. An exact airing date has not yet been announced, but in the past the Doctor Who holiday episodes have shown very near Christmas Day, if not on the holiday itself.