LEGO showed off a tall stack of new sets from their various genre-media partnerships at this year's NYCC.
Most impressive is all of the new sets from The Hobbit. There are lots of unique minifigs and plenty of new fantasy themed blocks.
The big expensive new Hobbit set is The Goblin King Battle, which comes with Dori, Nori, Ori, Gandalf, a couple goblin fighters, a goblin scribe, and the goblin king. It checks in at about $100.
Barrel Escape is the one I really want for myself, however. It looks like a great start to a fantasy tavern scene, and it comes with Bilbo and the One Ring. Other figures included: Gloin, Oin, and a pair of Mirkwood elf guards.
Attack of the Wargs gives us a tree fortress and combat ready minifigs for Thorin, Bifur, Azog, a couple of Orc fighters, and a pair of wargs.
Riddle for the Ring is a Toys'R'Us exclusive, but at about $10, it's an inexpensive way to get the two coolest minifigs from the line, Bilbo and Gollum. The set also comes with a One Ring for the two to fight over in the darkness.
Escape from the Mirkwood spiders has a couple of wicked giant spiders to build, and includes minifigs for Fili, Kili, Legolas, and Tauriel. These spiders would make a great geeky Halloween decoration.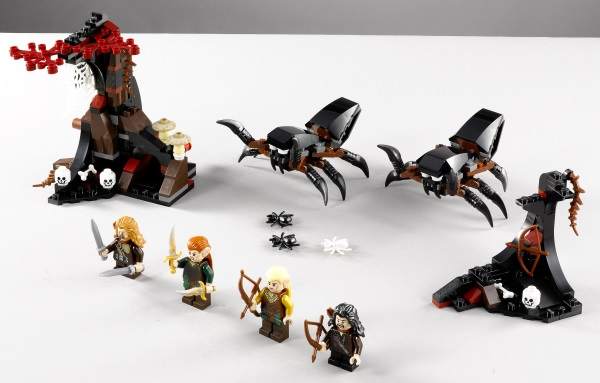 LEGO also revealed that they are adding some sets from some new super hero properties to their shelf. This set from Dark Knight Rises, The Bat v. Bane: Tumbler chase, features The Bat (hover vehicle from the film) and minifigs for Commissioner Gordon, Bane, and Batman, depicted as they are in the Warner Bros. film.
The Daily Bugle Showdown marks the first non-avengers set that LEGO has done for Marvel. Likely it's to capitalize on the new Spider-Man films, but Marvel doesn't have the rights to the specific depictions used in the new film, so we've got some of the comics characters and locations instead, starting with this one that includes Spider-Man, Jonah Jameson, Doctor Doom, Nova, and The Beetle.
Finally, LEGO announced a new partnership with Nickelodeon to produce sets based on their new Teenage Mutant Ninja Turtles cartoons. The first set is The Shellraiser Street Chase with Leonardo, Michelangelo, Dogpound, The Kraang, and a Footsoldier. The minifigs from the full line were also shown off.
The Hobbit sets will be out in time for holiday gift giving – and the first film of the trilogy – but the other sets are all coming next year, starting with the TMNT set in January.