Most of the reviews for Tim Burton's Frankenweenie were quite positive.
In fact, a number of reviewers felt that 'Weenie was a major return to form for Tim Burton, who some believed may have lost his way – to a certain extent – with Alice in Wonderland and Dark Shadows.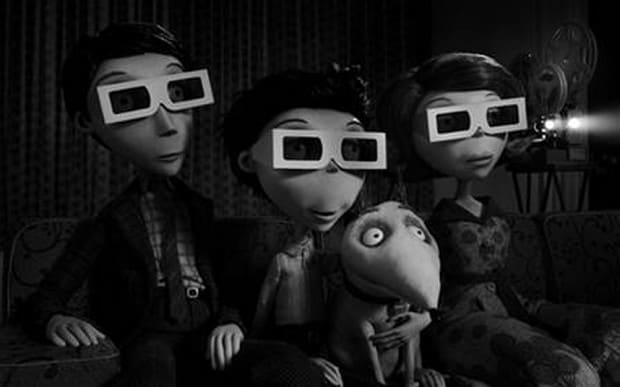 Frankenweenie should indeed be a fan favorite, the fan site reviews have been especially positive, but could it be worthy of an Oscar?
The question was recently raised by the L.A. Times, which noted that Cars 2 marked the first time Pixar was shut out of a category they very easily had locked up themselves. Nevertheless, says The Times, Pixar could have a chance this year with Brave, which did well at the box office, but got somewhat of a "meh" response from critics and theatergoers. But what about 'Weenie and Wreck-It Ralph? Well, the publication apparently believes the films could be serious contenders in the race.
Frankenweenie and Wreck-It Ralph are both Disney flicks, so they both should get a pretty big push from the company, and it would be very cool to see a Tim Burton flick, as well as an animated film that lives in the world of old school gaming receive nominations.
Among the raves for Frankenweenie include the horror site Bloody-Disgusting, who felt the film brought back the Burton of old. "For the better part of the past decade it had appeared that Tim Burton had lost his mojo," Disgusting wrote. But with 'Weenie, "He delivers an overtly emotional animated film that's touching…I don't think think Burton has ever connected with his audience like this."
IGN wrote that Burton "triumphs with this stop-motion animated film," and that 'Weenie "is his finest work in years." Indie Wire also called the film ""a rousing return to form" for the director.
Reviews aren't in yet for Wreck-It Ralph, but it's a great idea for an animated film, somewhat like a video game Toy Story. Weenie's got a clear emotional factor, reviewers say it really tugs at the heartstrings, an element that's always Oscar bait, but does Ralph have that as well? Or can Ralph simply dazzle the Academy on its technical computer FX wizardry?
Again, to see an animated film that takes place in the world of 80's gaming, and a black and white stop motion film even being nominated for an Academy Award is remarkable. If either of them win, even better.