Disney-Pixar has released a new clip for its upcoming film Brave, which tells the story of a Highlands princess who wants nothing more than to go her own way.
Previous promotional material mostly showed us the goofy side of the movie, but here we see it has some real wit, plus we also get a peek at the plot.
It's a play, of course, on the ancient trope of the woman who doesn't like her subservient place, but now we know that it actually has somewhat of an interesting spin. Apparently this is a pivotal scene, as the girl interrupts a ceremony which is sacred to her people in the name of her independence. She's not just impetuously striking out on her own, she's shirking her obligation to her people, and creating strife in her father's kingdom.
Of couse, that's not exactly new either, (then again, what is?), but it's still a bit more interesting than the simple Mulanesque story I was expecting. It's not just about "I don't want to be held back because I'm a girl" it more about sexual independence and feminine freedom from masculine affection. A heavy topic perhaps for a Pixar film, but with a mix-ins of clever humor and fun fantasy elements, I think they'll pull it off.
We've also got this new poster for the film, which as previous posters have, draws the viewer's attention heavily to the princess's hair and bow, strong symbols in the film.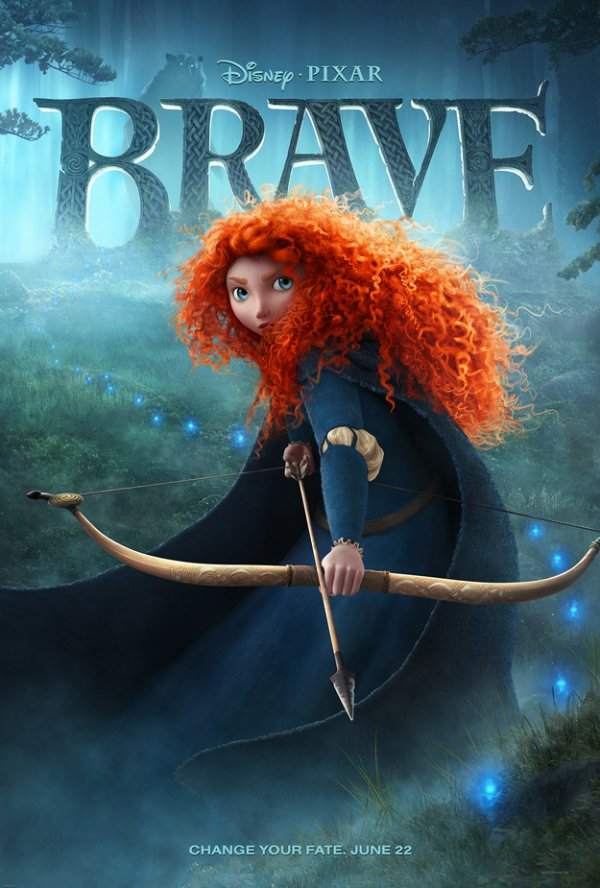 The latest official synopsis for the film is thus:
Since ancient times, stories of epic battles and mystical legends have been passed through the generations across the rugged and mysterious Highlands of Scotland. In "Brave," a new tale joins the lore when the courageous Merida (voice of Kelly Macdonald) confronts tradition, destiny and the fiercest of beasts.
Merida is a skilled archer and impetuous daughter of King Fergus (voice of Billy Connolly) and Queen Elinor (voice of Emma Thompson). Determined to carve her own path in life, Merida defies an age-old custom sacred to the uproarious lords of the land: massive Lord MacGuffin (voice of Kevin McKidd), surly Lord Macintosh (voice of Craig Ferguson) and cantankerous Lord Dingwall (voice of Robbie Coltrane).
Merida's actions inadvertently unleash chaos and fury in the kingdom, and when she turns to an eccentric old Wise Woman (voice of Julie Walters) for help, she is granted an ill-fated wish. The ensuing peril forces Merida to discover the meaning of true bravery in order to undo a beastly curse before it's too late.
Brave hits theaters on June 22, 2012.