The UK's vote to leave the European Union (EU) might have spooked a large number of tech start-ups, but according to Matt Clifford the situation might not be as dire as many expect. Ahead of the June 23 referendum, polls suggested that around 87% of tech start-ups were opposed to leaving the EU because it could cost them vital investment opportunities.
While the market is still in a state of uncertainty and the outlook for many small businesses is unclear, Clifford has a relatively positive outlook. The co-founder and CEO of Entrepreneur First, a UK accelerator program, claims to have closed three major deals since Brexit happened.
Investors Still Looking Towards the UK
"Sunset @ London" (CC BY 2.0) by d26b73
Having already spawned 75 start-ups since it launched in 2011, Entrepreneur First is certainly on the frontline when it comes to tech innovation in the UK. While that doesn't mean the forecast by Clifford is any more valid than those of other industry experts, it does suggest that the impact of Brexit might not be as negative as some start-ups expect.
Aside from Clifford asserting that London will remain a tech hub alongside university cities such as Cambridge and Oxford, the fact is that the UK will remain in the EU for at least two years. Once the UK initiates Article 50 – the official process for leaving the Union – it will take two years for the necessary paperwork to be completed.
During this time, the UK will still be subject to the same rules, regulations and treaties that it is now. For tech companies in the UK, this should offer some form of comfort, not least because security provisions across EU member states are now being tightened up. As more companies seek to move their services online, there's a greater need for adequate protection in the virtual arena.
New EU Directive Could Help UK Start-ups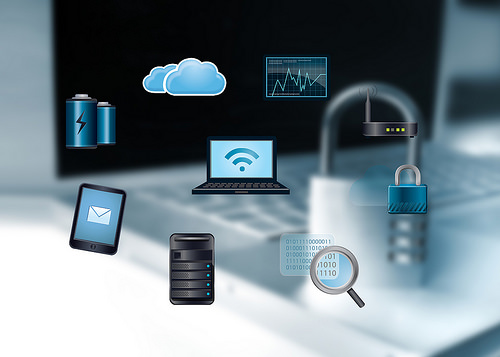 "Secure Data – Cyber Security –" (CC BY-SA 2.0) by perspec_photo88
In response to this, the EU has just implemented a new directive on the security of network and information systems (NIS Directive). Spanning a variety of industries, the directive has essentially been created to bring cyber security capabilities to the same level of development in all the EU member states and ensure that exchanges of information and cooperation are efficient.
With this directive in place, information security technologies such as web application firewalls (WAFs) are now being adopted by business of all sizes. Assisting this trend are the recently introduced cloud-based WAFs, which bring high-end security to the mass market.
Originally intended to complement existing security hardware, cloud-based WAFs helped fill the security gaps in hybrid and pure-cloud network setups. Today, however, their affordable costs and ease of use made them a go-to option for many online businesses looking to protect their website, databases and web applications.
Just like their appliance counterparts, cloud WAFs are deployed on the network edges, where they are able to check all incoming requests and visitors. Through a combination of signature recognition, behavior analysis and IP address monitoring, WAFs are able to automatically identify and block known and emerging cyber threats before they even "set foot" in the secured perimeter.
Still Reasons to Remain Positive
"Sorry to see you go – after Brexit" (CC BY 2.0) by muffinn
Of course, if the UK wasn't in the EU then it could simply ignore the new security directive and do its own thing. However, since we know we'll still be in the Union for two years, companies will have to start complying with the rules if they want to stay active.
The benefits of this are twofold. Firstly, once companies have spent time and money on meeting the regulations it's highly unlikely they will undo all their hard work. Secondly, with the UK falling under this new umbrella of security regulation, it will have to comply with and, importantly, contribute to the security directive.
Essentially, because the UK has long been a leading tech hub in Europe, member states with less of an infrastructure will be looking to British companies for help and advice.
Of course, this could all change when the UK does exit the EU. However, for now at least, there are a few good reasons for start-ups to remain positive.