Get ready to thrash you way to work on the Marbel Board, the world's lightest electric skateboard. The Marbel company still has 23 days to go on their Kickstarter campaign and they've already raised close to $140,000 (nearly $50,000 more than their original $90,000 goal).
The Marbel electric skateboard weighs in at only 9.9 pounds – making it lighter than any electric vehicle in the world. It has enough power to go 20 MPH (even uphill), will take you 10 real world miles per charge and all of the electronics and batteries are completely integrated into the carbon fiber / kevlar deck.
The board's acceleration and braking can be controlled with a hand-held controller or, like everything else in the world these days, it can be controlled (and even customized) with an iPhone or Android device.
The idea for the Marbel board came from a team of engineering types who wanted to build the world's lightest electric vehicle and by the looks of things they've done just that.
The board is 38" long, 10" wide and 5" tall and it's only 30mm at the thickest point (about 1.2"). It's so slim that it's hard to imagine there is a 165 Wh Lithium Ion battery and a 2000W brushless DC motor that can deliver nearly three horsepower packed inside. The battery can be fully recharged in only 90minutes.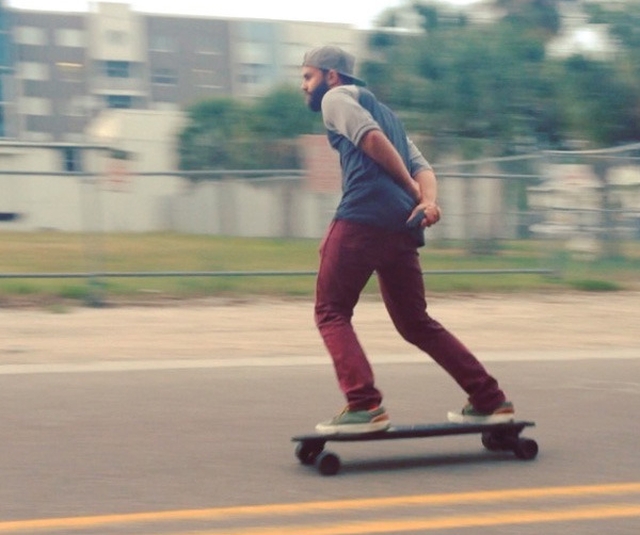 The Marbel is also shock resistant and weather-proof so you don't have to worry about bumps or puddles, but at $1,200 a pop I'm not sure I'd want to grind any handrails or shred a half pipe. And even if you're only using it to bop down to the Quik-e-Mart you should probably wear a helmet.
The smartphone apps allow you lock and unlock your board and let's you select from three pre-defined riding modes or you can customize things like acceleration and maximum speed. The apps also have a few other cool features including a map feature that outlines your maximum range. You can also tap into the Marbel community so you can map, compare, and even share your favorite rides with friends and other Marbel riders.
Now the Marbel Board probably isn't for everyone but it is pretty neat and looks like fun. Of course, if texting and driving a car isn't safe then I can imagine how dangerous skateboarding while twiddling with your smartphone would be – but then again, the kind of people who would be riding one of these technological marvels probably wouldn't care.
You can learn more about the Marbel Board at the company's Kickstarter page here.