AntiSec hackers say they've released a 10GB file of data – their largest yet – lifted from US law enforcement agencies in retaliation for recent hacking-related arrests.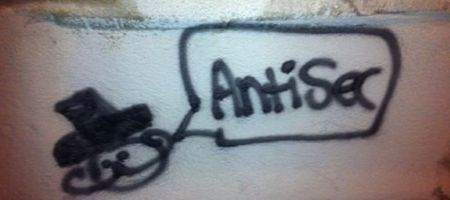 The files – labeled 'Shooting Sheriffs Saturday Release' have been posted on Pastebin. They include police emails, training files and personal information including social security and credit card numbers.
"We hope that not only will dropping this info demonstrate the inherently corrupt nature of law enforcement using their own words, as well as result in possibly humiliation, firings, and possible charges against several officers, but that it will also disrupt and

sabotage their ability to communicate and terrorize communities," says the group in a statement.



"We are doing this in solidarity with Topiary and the Anonymous PayPal LOIC defendants as well as all other political prisoners who are facing the gun of the crooked court system."
AntiSec says it took less than twenty-four hours to root the Brooks-Jeffrey Marketing servers, which host sheriff association sites, and copy the data to its own private servers.
And, it says, when the sites were relaunched a few weeks later, they did so with AntiSec's backdoor still in place, allowing the group to root the new server within an hour and deface all 70 domains.
The hackers have used some of the stolen credit card details to make donations to the American Civil Liberties Union (ACLU), the Electronic Frontier Foundation and the Bradley Manning Support Network, they say.
The group appears to be stung by criticism that its attacks are simple in nature.
"A recent DHS bulletin has called us 'script kiddies' that lack 'any capability to inflict damage to critical infrastructure', yet we continue to get in and out of any system we please, destroying and dropping dox on the mightiest of government systems that are supposed to be protecting their sick nightmare of 'law and order', says the statement.