A Bulgarian "anti-Mafia" unit has reportedly raided the headquarters of an alleged piracy site.
The clueless security officials – who apparently lacked even a basic search warrant – ordered Elkom 63 employees to lie on the floor while they conducted the jackbooted operation.
"As part of the Ministry's continuing policy of taking down piracy sites, it announced that employees of GDBOP, the Computer Crime Department of the country's organized crime unit, had busted a site that was illegally distributing movies, music and software," the Bulgarian Interior Ministry confirmed in an official statement translated by TorrentFreak.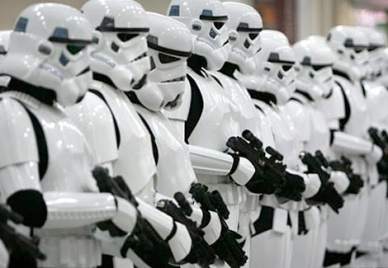 "Carried out in conjunction with the police from the southern city of Haskovo and the town of Ivaylovgrad, the raid netted servers which the authorities described as a 'huge mall' for copyright infringing material."


However, Elkom 63 owner Atanas Shishmanov disputed the Ministry's predictably sterile version of events, noting that the GDBOP only confiscated a grand total of two PCs containing a whopping 5TB of data during the crackdown.
"Around 3 PM, 15 people from GDBOP entered the office, and as in an American movie, got everyone to lay down…[You know], I read the Internet report and laughed," said Shishmanov.
"[Of course], the bad thing is that those computers were ones left by customers for repair, and they were taken open, as they were. We even don't know what they had on them."