We all know that Prism is most likely just the tip of the snooping iceberg. While some of us may run Tor on our PC or Mac, there may be times when when we are working on a device that is not our own, or perhaps even a Chromebook, tablet or phone.
Enter the stalwart Raspberry Pi, which can be transformed into a portable Tor device for browsing on the go.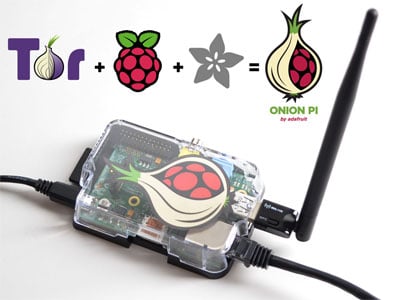 "Using it is easy-as-pie. First, plug the Ethernet cable into any Internet provider in your home, work, hotel or conference/event. Next, power up the Pi with the micro USB cable to your laptop or to the wall adapter," LadyAda of AdaFruit explained.
"The Pi will boot up and create a new secure wireless access point called Onion Pi. Connecting to that access point will automatically route any web browsing from your computer through the anonymizing Tor network."
Tor can best be described as an onion routing service, with every internet packet traveling through three layers of relays before reaching its destination.
"Journalists use Tor to communicate more safely with whistleblowers and dissidents. Non-governmental organizations (NGOs) use Tor to allow their workers to connect to their home website while they're in a foreign country, without notifying everybody nearby that they're working with that organization," reads an official description on the Tor website.
"Groups such as Indymedia recommend Tor for safeguarding their members' online privacy and security. Activist groups like the Electronic Frontier Foundation (EFF) recommend Tor as a mechanism for maintaining civil liberties online. Corporations use Tor as a safe way to conduct competitive analysis, and to protect sensitive procurement patterns from eavesdroppers. They also use it to replace traditional VPNs, which reveal the exact amount and timing of communication."
Additional information about transforming your Raspberry Pi into a portable Tor anonymizer (or buying an Onion Pi kit) can be found here.