As Apple likes to keep reminding us, Android is the biggest target for mobile malware – and, according to F-Secure, it's getting more so all the time.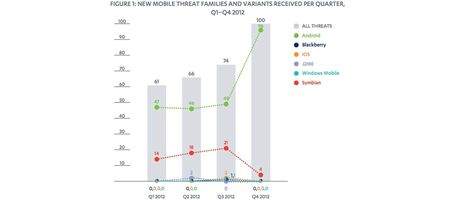 In a new report, the security firm says Android accounted for 79 percent of mobile malware last year – a whacking 96 percent in the last quarter. Symbian accounts for most of the rest of the year's malware, at 19 percent, although as the platform declines in popularity, this figure's falling too. Apple represented just 0.7 percent.
"Malware in general has a parasitic relationship with its host," says Sean Sullivan, security advisor at F-Secure Labs.
"As old Symbian handsets continue to be replaced by those with other operating systems, especially Android, Symbian malware dies off and will probably go extinct in 2013. May it rest in peace."
More than 300 new threat families and variants were detected in 2012. Two thirds were trojans – although Sullivan says he expects this figure to drop, following Google's release of Android 4.2 Jellybean late last year. The extra security prompts when downloading in 4.2 should help deflect trojans, he says.
One prominent threat is malware that snaffles cash through fraudulent SMS practices. Nearly a quarter of the 96 Android threat variants found belonged to Premium SMS, a malware family that sends out messages to premium rate numbers.
Other Android threats use similar tactics, some signing victims up to an SMS-based subscription service from which messages or notifications are deleted – keeping users in the dark until charges appear on their bills.
Needless to say, Apple hasn't missed the opportunity to crow about F-Secure's findings. "Be safe out there," tweets Phil Schiller, the company's head of marketing, linking to the report.