With how fast the World Wide Web has advanced, you can now create a website for your business even without the help of a web developers and designers.
By relying on content management systems or DIY site-building platforms alone, you can now create a professional-looking website in minutes.
In this post, we'll take a look at , a drag-and-drop website creation platform, and its core features.
Let's jump into it.
1. Fully Responsive Templates
Duda has a straightforward approach to the process of website creation.
Just like popular content management systems like or , Duda allows users to forego the initial planning stage with the help of templates.
Upon creating and logging into your account for the very first time, simply click "Create a Responsive Site" from the main dashboard to get started:
In the next page, you can choose from 100+ templates that are already pre-configured for conversions. These fall under categories like "online store," "business," "blog," and "portfolio:"
It's worth noting that all of these website templates implement responsive design, which means their individual elements automatically adjust and reposition to fit smaller displays.
Mobile responsiveness makes sure that the user experience remains consistent across all platforms, be it computers, tablets, or smartphones.
To choose a template that matches your business's unique needs, you can also check the live preview of each. You can select this option by hovering your mouse pointer over a template thumbnail:
Once you find a template you'd like to work with, go ahead and click "Start" to proceed to the next step.
2. User-Friendly Interface
For those who aren't experienced in the web development space, Duda's minimalistic interface is definitely a huge help.
There are only three important areas in the interface that need your attention — the top bar, left menu, and the main content area. All of which is crucial if you want to build a website that's optimized for conversions:
Top Bar
The top bar allows you to preview your website in different screen formats. You can also use it to quickly navigate your website, save your work, undo or redo your changes, and access the "developer mode" for more control over your website's design.
Left Menu
In Duda, most of the website features you need are found in the left menu. You can add widgets, design elements, pages, content, and more.
Content Area
Finally, the content area is where you can adjust website elements, manage rows, and edit the on-page text. Menus also simulate the actual navigation experience that your would-be visitors will get.
If you like to explore the Duda interface in more detail, you can go to the "Help" section by clicking the "Learn more about the Duda editor" button in the top bar:
3. Plug-and-Play Widgets
If content management systems have plugins that expand functionality, Duda has widgets you can seamlessly add to your site.
Everything, from image sliders to basic buttons, can be added directly by dragging-and-dropping them into your content area:
Apart from basic page elements, you can also integrate business features like payment gateways, contact forms, and online scheduling into your website. Duda makes the setup process for these widgets as clear-cut as possible — all you need to do is fill in the necessary details in the small pop-up window.
For example, if you want to add a PayPal "Buy Now" widget, you need to complete the following form: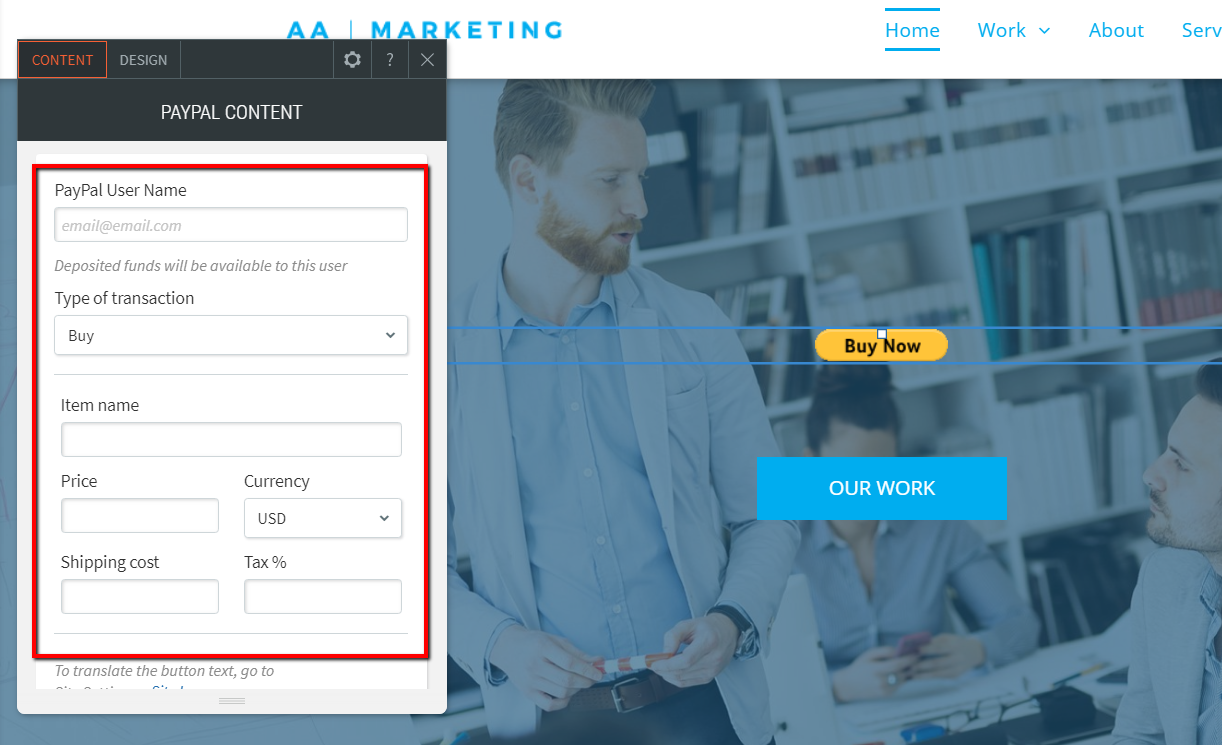 Most widgets also come with display customization options. In the case above, for instance, you can adjust the spacing and button style using the drop-down menus:
Adding widgets is a great way to personalize and add functionality to your website without writing a single line of code.
Plugins in content management systems like WordPress also offer the same convenience. But since those created by third-party plugin developers, they don't provide the same design cohesiveness that widgets assure for Duda.
4. Built-In Online Store Feature
Want to monetize your traffic by selling products straight from your website?
The good news is, Duda is a website builder and e-commerce software rolled into one. With the built-in "Store" integration, you can easily create your own digital storefront without investing in an external e-commerce platform.
In the "Store Management" section, you can find the exact steps needed to get up your online store up and running. This includes adding your products, specifying your location, and configuring your shipping settings.
Duda is also equipped with advanced store management features. You can offer discount coupons, generate reports, and integrate additional apps for more functionality:
5. Content Management
It doesn't matter if you want to build a full-fledged online store or just a corporate website for your business. If you want to win over leads from organic traffic, you need to pack your website with valuable content that addresses your target audience's needs.
With Duda, content management has two handy features that can help you: the content library and the blog manager.
In the content library, you can easily import content from an existing website, be it yours or an existing client's. From there, you can manage files, documents, and social media links:
When it comes to your blog, you can also import existing posts from a different site. Duda has a visual post editor you can use to modify old content as well as create new ones from scratch:
With the Duda post editor, you can add text elements, headers, images, videos, and content dividers. Advanced users can also insert HTML code to make content more unique.
Wrapping Up
If you need a website for your business, Duda is indeed one of the better options. While it's a notch above other website builders like or in terms of functionality, it has a much smoother learning curve than a CMS like WordPress — not to mention it has the capacity to bring faster results.
At the end of the day, there's no such thing as a perfect platform that meets every brand's needs. To see if Duda fits your requirements, you can test the waters with their free-trial version.
You Might Also Like