A number of industry heavyweights, including Microsoft, Google, and even Apple are seeking to revolutionize the current TV watching experience. Clearly, there is a quite a lot of room for improvement.
TiVo has been trying to work around the current paradigm for years by providing a service that better organizes the content from existing providers, while Hulu attempted to bring the content owners together into a comprehensive service.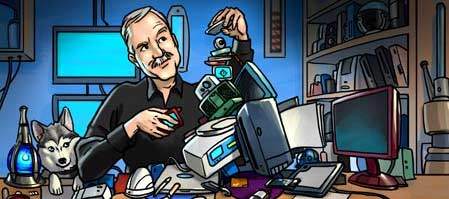 Dish Network released a technology that allows folks to skip commercials, got sued by CBS and had their Best of Show taken away (it was later reinstated and CBS's power revoked). Google tried something different but that didn't go swimmingly with the CEO of Logitech, the primary hardware partner, who lost his job over the effort.
As noted above, Apple is working to crack the TV code, while Microsoft has been modifying its next-gen Xbox to go after the lucrative space as well. However, Apple's offering is still largely vapor, and Microsoft's seems more like an alternative to Netflix streaming or Amazon than Comcast or AT&T.
Well, Intel entered the market yesterday and Santa Clara certainly brings some interesting talent and potential to the sector. However, it will still come down to the quality and amount of content in the service and what Intel can charge for it. So let's look at what Intel TV could bring to the table.
4K Content
The upcoming generation of next-genTVs are called 4K and they are about four times the resolution of that HD set you probably thought was going to last you a few more years. The problem? There is no 4K content yet and even when there is four times the resolution, this generally means about 4 times the file size – and our networks are already struggling to stream HD content.
Then again, Intel is is a chip company, so scaling up to 4K from HD is a relatively simple process, even if doing it in real time is somewhat power intensive. Still, if Intel can take existing HD content and scale it up to 4K content, Santa Clara will instantly be able to showcase a new television set far better than the competition without bringing the average network to its knees. There is little doubt 4K content will need to be compressed and then decompressed. Again, this is all very processor intensive and well within Intel's anticipated design specs.
Unique Content
Intel is quite capable of designing security on the chip and tying it to a decryption application. This means the company can create a service where files are sent that only play back after detecting a unique key embedded in the Intel processor – making the platform far more secure than typical set-top boxes.
This provides content owners with a far higher level of comfort which should encourage them to provide content to Intel before others. Think of being able to watch moves, for a price, far earlier in their release cycle and for content providers to create unique content for an Intel device because of the inherent difficulty of pirating said content.
Mobile Content
Granted, Santa Clara's service will generally only work on Intel PCs, tablets and smartphones. However, the same capabilities should be equally available on any compliant Intel platform product – creating a potentially seamless viewing experience capable of following you from your living room, to your phone and into your car. Plus, the content will automatically scale to the screen it is on.
Dynamic UI
Using processing power, Santa Clara can create a unique user interface that aggregates available content thematically. This means not only matching content to what you are currently viewing, but pushing up content that Intel's system has determined you like more effectively than what TiVo or the current set to box makers can do.
Expect them to break away from the spread sheet type of interface that is the most common and into something that is far more grid like and dynamic. Also expect that the system will recognize who is watching and adjust both the content and presentation to uniquely reflect the interests and preferences of the individual controlling the TV.
Wrapping Up: Amazing But….
I have little doubt that Intel can deliver an amazing user experience, 4K TV content both inside and outside of the home, and something truly revolutionary in terms of user interface. However, the problem that has daunted everyone else is securing access to sufficient content and then providing it at a price point the market can afford.
With all of the above magic, if Intel doesn't get enough content and offer it at an attractive price they won't be any more successful than Google is. However, Intel knows this as well as I do and think they have it cooked. Of course, we'll see for certain in a few short months. There is no doubt Santa Clara has created an amazing platform. Of course, whether the existing media industry will allow them to succeed is still in question.