Last year, fewer than 5 million TV sets shipped in the US had Wi-Fi connectivity features. That number is set to grow to over 60 million units in the next 4 years, according to a new report from In-Stat.
TVs will account for just part of the expanding Wi-Fi device market. By 2013, there will be more than 3 billion devices with Wi-Fi connectivity, says the report.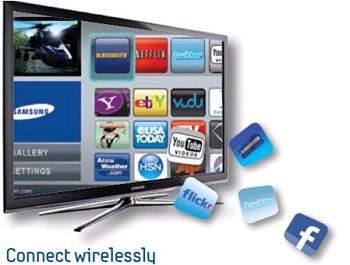 Laptops and desktop computers now have Wi-Fi as a standard feature, and "that same consumer desire is now resulting in Wi-Fi adoption across the entire range of connected consumer electronics," said In-Stat VP of research Frank Dickson.
The newest digital TVs allow users to stream Youtube videos, connect with Facebook, and access their Netflix account without the need for any additional hardware, and that connectivity is resonating with consumers.
Other budding markets include game consoles, Blu-ray players, and printers. In-Stat also projects that the tablet market, spurred by Apple's iPad, will reach 50 million unit shipments by 2014