Nicholas Negroponte, the founder of MIT's Media Lab and the One Laptop Per Child initiative, recently proclaimed that the printed book will be dead by 2015.
Meanwhile, a Gallup Poll released in 2007 shows that one-quarter of Americans don't read books. While these grim predictions don't seem to fare well for the printed word, new eReader platforms enter the market every day.
Here are ten exciting eReader platforms that may get you to get back into your reading habit!
Libre by Aluratek

If the price of eReaders has kept you out of the marketplace, the Aluratek Libre may just get you to change your mind. Priced at just $129 for the base model, the Libre provides a cost-effective entry into the eReader market.
The Libre features a relatively clean presentation. A good-sized control and navigation key cluster, number keys and a menu key along the right side of the reader round out the user navigation tools. 

In addition to the MicroSD reader, the Libre features an easily accessible mini-USB connector.
The Libre has a 16-level grayscale, easy-to-read LCD ePaper display and 
offers a comparatively short 24-hour battery life.
The Libre comes loaded with 100 free eBooks and supports PDF (Adobe Digital Edition DRM/non-DRM), TXT, FB2, EPUB (Adobe Digital Edition DRM/non-DRM), MOBI (non-DRM only), PRC (non-DRM only) and RTF electronic book formats. It also supports BMP, GIF, and JPG image files, and MP3 audio files.
Kobo eReader
The Kobo eReader is another entry-level eReader device, available through Kobo and Borders Books. The base model has no wireless capabilities; computer access is required to upload content to the device. 


The first generation Kobo is available for about $120. While the price point is attractive, the eight-level grayscale display and noticeably slow processor are definite disadvantages. The good news is that a second-generation wireless Kobo eReader is also available for $140.
The wireless Kobo eReader features a simple user interface, button-based navigation, a MicroSD slot and an 800×600 E-Ink 16-level grayscale display. The second-generation version also features a faster processor. 


The Kobo is compatible with the iPad, iPhone, BlackBerry, Android devices, PCs and Macintosh computers and will read ePUB, PDF and Adobe DRM file formats. It comes loaded with 100 eBooks and has a maximum storage capacity of about 1,000 eBooks. Battery life is estimated at about 10 days.


Kindle

The first major entrant into the eReader market was the Amazon Kindle and there's a reason it's still at the top. Consumers can pick up the Kindle Wi-Fi for about $140.
The lightweight reader is no lightweight when it comes to features, though. 

Users can store up to 3,500 books in the onboard memory, and battery life is rated at a full month. With the wireless on, that falls to three weeks. Even so, the battery life is much longer than any of the Kindle's closest competitors.
Kindle supports page navigation from either side of the device. The E-Ink display provides a bright, highly visible screen, even in bright sunlight. The wireless connection allows users to download books to the device directly. 


Users also get free access to AT&T wireless hotspots. Kindle supports all standard eReader file formats, plus Amazon's own proprietary format. You can get Kindle reader software for your other mobile devices, but don't expect to take eBooks you've purchased in Amazon's formats to other reader platforms.
Nook

Voted a "Top Pick" for 2010 by Money Magazine, the Barnes & Noble Nook enters on the lower end of the pricing spectrum. Barnes & Noble offers more than 1 million titles in eReader format with most titles less than $10. 

The Nook comes in two formats: an 802.11 b/g wireless option and a wireless plus 3G connection package that retail for $150 and $200 respectively.
Nook users can also make free connections to any AT&T wireless hotspot. Nook users can read eBooks free inside B&N stores and lend eBooks to friends for 14 days.
At nearly 12 ounces, the Nook is one of the heavier eReaders on the market. The Nook features an E-Ink eBook display as well as a color LCD touch screen navigation display; 2 GB of onboard memory and a MicroSD expansion slot.
The battery life is rated at 10 days. 

The Nook supports DRM ePub, PDB and PDF files, as well as non-secured ePub, PDB, and PDF files. It also provides support for .JPG, .GIF, .PNG, and .BMP graphics files and MP3 audio files.
Sony Reader Pocket Edition
Sony offers a number of eReader devices, starting with its base model, the Reader Pocket Edition. Although the retail price of this device is currently about $180, the Reader is available through physical and online retailers for much less.
The Reader is lightweight, weighing about 5.5 ounces. It features a 16-level grayscale E-Ink display and enough memory to store about 1,200 books simultaneously.
The Reader also features an optional USB charger, a standard AC charge adapter and a 5-inch display screen. The battery life is estimated to be about two weeks with normal operation.
The Sony Reader supports multiple e-Book formats, including PDF, EPUB/ACS4 and connection with Adobe Digital Editions as well as Word and plain text files. 


The Reader offers additional design advantages, such as left- or right-handed page turning, highlighting and note-taking, adjustable font sizes, compatibility with both PCs and Macintoshes and touch screen control.
Users can download free and paid content paid content from the Sony content library or from other retail sources.
Pandigital Novel
Pandigital, most well known for its digital photo frames, will enter the eReader market with the Pandigital Novel, a color TFT-LCD eReader priced at $180.
The Novel features an 800 x 600 7″ bright color display, and is Wi-Fi enabled. The Novel also takes keyboard input from a mini-USB port and offers a MicroSD memory expansion slot.
Unlike its lighter-than-air eReader brethren, the Novel is downright chunky, tipping the scales at 2.25 pounds.
To be fair, the designers intend the device to rest in a stand or cradle on a desktop, instead of being hand-held like the typical eReader is. The Novel doesn't have an E-Ink display, but does provide touch screen controls for navigation.
The Novel runs on an Android OS and can deliver a 6-hour charge. The Novel supports most popular eReader formats and has built-in audio capabilities.
Sony Reader Touch Edition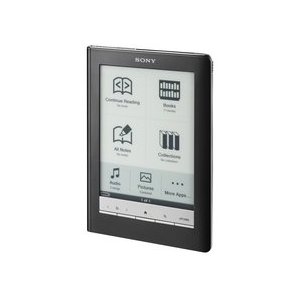 The Touch retails for about $230, though like its less powerful cousin, the Reader Pocket Edition, the Touch can be found in retail outlets for much less.
This eReader is about 2 ounces heavier than the Pocket Edition, and features the same 6-inch 800 x 600 E-Ink 16-level grayscale display screen. Navigation controls are built into the touch screen.
Battery life for the Touch Edition is estimated at 14 days, and the unit can be recharged either through the USB cable or its own AC adapter.
The Touch Edition accepts data through a high-speed USB connection, and is compatible with both PC and Macintosh computers.
If you want to carry a large number of e-Books or other data files, the Touch Edition's base 2 GB of memory is expandable with both MicroSD and Memory stick Duo expansion slots.
The Touch Edition supports a large number of file formats, including DRM-protected ePub, PDF, BBeB Book, text, and RTF files; unsecured ePub, BBeB Book, PDF, TXT, RTF, and Microsoft Word files (Word is required on the host computer for conversion) to the eReader-compatible format); JPEG, PNG, GIF, and BMP graphics files; and unencrypted MP3 and AAC files.
Kindle DX
On the other end of the Kindle spectrum is the Kindle DX. This eReader is meant to compete directly with the Apple iPad and currently has a $379 price tag.
The Kindle DX comes with free 3G, a nearly 10″ E-Ink display, and is about as thick as a standard print magazine. With the DX, readers can connect to social networking sites like Facebook and Twitter and can get free 3G coverage in about 100 countries.
The Kindle DX supports the Amazon eBook formats, as well as DRM and non-DRM protected .PDF files, text files, Word documents and RTF documents. It also supports MOBI and PRC files, as well as HTML, image files and audio formats.
The catch with the Kindle DX, as with the Kindle Wi-Fi, is that Amazon's proprietary eBook format doesn't work on other eReaders, with the exception of the iPad. Software is available to allow users to read Amazon formatted eBooks on PCs, mobile devices.


Alex, by Spring Design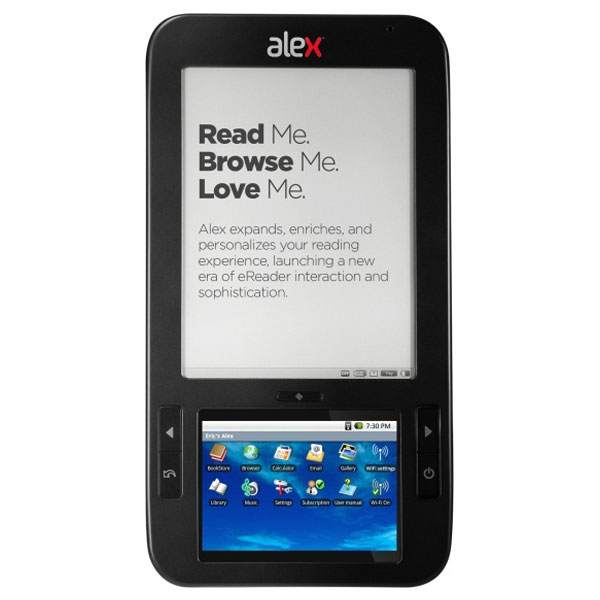 Among eReaders, Alex by Spring Design is something of an outlier. It features a bright TFT-LCD touch screen interface in addition to a standard E-Ink display, and an Android-based operating system.
The Alex eReader offers a simple user interface, fast response to user input, and the ability to handle a variety of e-book file formats, including EPUB; HTML; PDF; and TXT.
Alex will also handle AAC Unprotected; AMR; M4A/AAC (DRM-free); MIDI; MP3; OGG; WAV; and WMA audio files and .JPG, .GIF and .BMP image files. Alex comes loaded with a small collection of basic applications, too.
Alex weighs slightly less than 11 ounces, supports 802.11 b/g Wi-Fi capabilities; has a MicroSD slot, 2 GB of built-in memory, a standard 800 x 600 E-paper display size and a battery life of up to 6 hours with the Wi-Fi and LCD display on, and up to 2 weeks with the Wi-Fi turned off. 


The device is compatible with PCs, Macintoshes and Linux computers. The retail price of the Alex eReader is about $400, which makes it one of the most expensive eReaders in today's market.
Apple iPad
The Apple iPad loosely falls into the eReader category because, like the Kindle DX, it can provide eReader capabilities. The iPad is more properly classified as a tablet computer.
Users can load hundreds of different applications onto the iPad and turn their iPad into a Web browser, email reader, video player, MP3 player and yes, even the iBook eReader. The iPad starts at $500 and comes in models that support Wi-Fi or Wi-Fi + 3G connectivity.
Apple offers the iBookstore, a digital content store where iPad users can download thousands of titles in open ePub format. iBooks may contain enhanced content including text, graphics and pictures, audio and video.
Thousands of additional titles are available at no cost. Content purchased from the iBookstore is available to the user's other Apple devices, like the iPhone and iPod Touch. Naturally the device also supports common file formats like .PDF, HTML, text, MP3 and common image formats.
The iPad weighs about 1.5 pounds and can deliver 9-10 hours of operational time per charge.
About the author: 

Inspired at an early age by some of her favorite children's books, Megan Steet has always wanted to be involved with journalism. Megan is currently a freelance writer and blogger who covers anything that grabs her attention.