Swype, a popular touchscreen keyboard app for Android, has just been granted a big update.
Swype has gained recognition for its ease of use and ability to "learn" how users type, making what can sometimes be a frustrating experience of texting without a physical keyboard into a very intuitive experience.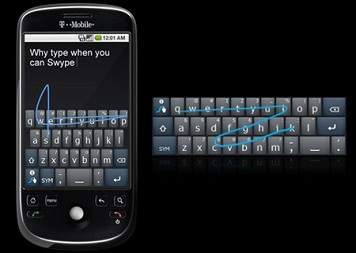 It has managed to gain quite a following even though the process of using it involves downloading the Swype app and disabling the more comfortable built-in touchscreen keyboard.
Because it has been successful, the Swype team has been working on an update that will not only improve the already-acclaimed typing software but also branch out into controlling other aspects of the phone.
The addition of Swype "gestures" means users are now able to easily cut/copy/paste text, a feature that most Android owners still don't know how to do under the default settings, and connect directly to Twitter.
Or you can even open up Google Maps and search for directions with just a few flicks of your finger. The number of possibilities is staggering under the new update.
Swype fanatics have been testing out these new enhancements in a beta version of the update that has been available for some time, but today, all the kinks have been worked out and the update has been activated.
That is, if you have a Nexus S smartphone from Sprint. Users who do can go to sprint.swype.com to download the update. Of course, this is just the beginning of the rollout; other Android phones will be soon to follow with the latest and greatest in Swype technology.