The Asia Society has released pictures showing the dramatic shrinking of Mount Everest's glaciers since George Mallory photographed them nearly 90 years ago.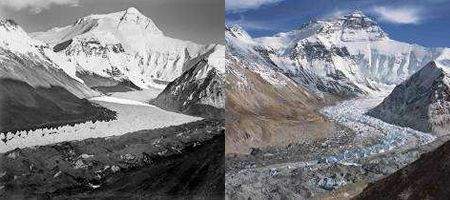 Photographer and mountaineer David Breashears, as part of the Glacier Research Imaging Project (GRIP), retraced the steps of the 1921 British Mount Everest Reconnaissance Expedition Team.
He used as a guide the photos of surveyor and photographer Major Edward O Wheeler and amateur photographer George L Mallory – who was to die there three years later – and has matched his own pictures to theirs precisely.
The photographs show a startling decline on the amount of glacial ice since the first pictures were taken."Many of the Greater Himalaya's glaciers are in China, and the rivers that flow out these mountains and from these frozen reservoirs will help determine the fates of people from Afghanistan to the North China Plain," says Orville Schell, Arthur Ross Director of Asia Society's Center on US-China Relations.
"What the world chooses to do about climate change will determine the fates of these glaciers and these peoples."
The Himalaya are home to the world's largest ice reserves outside the poles, and their meltwaters are crucial to hundreds of millions of people downstream.
There are more photographs, here. They include a photograph from 1899 by Vittorio Sella, and 55-inch video

displays of two gigapan photographs – ultrahigh resolution panoramic images of over a billion pixels, made of multiple photographs stitched together- and two 21-foot panoramas.