Last year was the warmest on record for the contiguous United States, say NOAA scientists, with an average temperature of 55.3°F – 3.2°F above the 20th century average, and 1.0°F above 1998, the previous warmest year.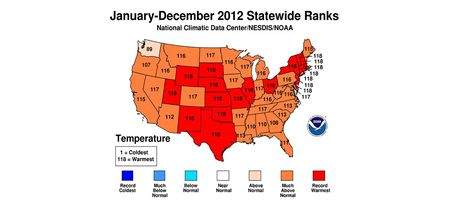 "Every state in the contiguous US had an above-average annual temperature for 2012. Nineteen states had a record warm year and an additional 26 states had one of their 10 warmest," says the NOAA.
The average precipitation total was 26.57 inches, 2.57 inches below average, making it the 15th driest year on record for the nation. At its peak in July, 61 percent of the nation endored drought conditions, with the Mountain West, Great Plains and Midwest worst affected.
The dry conditions led to enormous wildfires in the West, charring 9.2 million acres – the third greatest area on record.
Indeed, the US Climate Extremes Index indicates that 2012 was the second most extreme year on record: nearly twice the average value and second only to 1998. Around a dozen disasters hit the $1 billion mark in terms of losses.
The year kicked off with the fourth warmest winter on record, leading to near-record low snowfall totals. Spring brought the warmest March on record, followed by the fourth warmest April and second warmest May. The season's temperature was 5.2°F above average, making it easily the warmest spring on record.
These above-average temperatures continued into summer, peaking in July with an average temperature of 76.9° F, 3.6°F above average, making it the hottest month ever observed for the contiguous United States.
An estimated 99.1 million people – nearly a third of the population -experienced 10 or more days of summer temperatures greater than 100°F.
Autumn and December temperatures were warmer than average, although not quite at the level of the three previous seasons.
The driest conditions during 2012 occurred across the central United States, with Nebraska and Wyoming having their driest years on record.