Facebook's revamped its profile pages, highlighting personal information, including more photos and pushing both to the top of the page.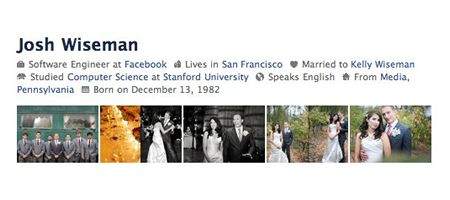 The redesign was announced last night, giving CEO Mark Zuckerberg the opportunity to discuss the details during a slot on 60 Minutes.
Profile information, such as location, school, marital status and work now appears in one place at the top of the page: "the kinds of conversation starters you share with people you've just met or exchange with old friends as you get reacquainted," says Facebook

engineer Josh Wiseman on the company blog.
There's also a new row of recently tagged photos.
Another new feature allows users to highlight particularly important friends or family – asking for trouble, perhaps, if users pick the wrong people.
There are new ways to share interests and activities, says Facebook. "You can list the projects you worked on at your job, classes you took in school, your favorite musicians and sports teams, and more," says Wiseman.
"You can also share your life philosophy by connecting to the religions, political affiliations, and people you follow and admire. All your interests and experiences are now represented with images, making your entire profile a more compelling visual experience."
And the company says it's now faster and easier to find photos of people by browsing through a new 'infinite scroll' and searching by name, hometown, school or other categories.
During the CBS interview, reporter Leslie Stahl queried whether the redesign nudged users into revealing even more information about themselves. Zuckerberg argued that the company was doing its best on privacy.
"Do we get it right all the time? No. But it's something that we take really seriously," he said. "Privacy and making sure that people have control over their information is one of the most fundamental things on the internet."