We've been using Auslogic's Disk Defrag since the bad old days when Vista was new. Now it's just got better. So much better that we seriously wonder why the others don't just pack up and go home.
With version 3, what had been simply the fastest defragger around has now become the best. And it's still damned fast. It now offers consolidation – placing all the used space in a contiguous lump – rather than just defragging the files. This removes any need to use cumbersome and slow alternatives either shipped with Windows or sold by the usual suspects.
The amount of controllability is breathtaking – from choosing the priority at which the app runs, to scheduling regular defrags, running at startup or when the system is idle, moving system files to the start of the disk and choosing whether to defrag multiple drives simultaneously.
Auslogics reckons the program runs up to 50 percent faster than previously and it was damned fast to start with.
Normally, NTFS reserves about 12.5 percent of the disk volume for the Master File Table (MFT) but, when disk space is getting low, the MFT Reserved Zone can be used for storing regular files, which can lead to MFT fragmentation. Disk Defrag 3 moves regular files from the MFT Reserved Zone into the rest of the disk space, allowing NTFS to allocate contiguous space for the MFT records and thus prevent its fragmentation.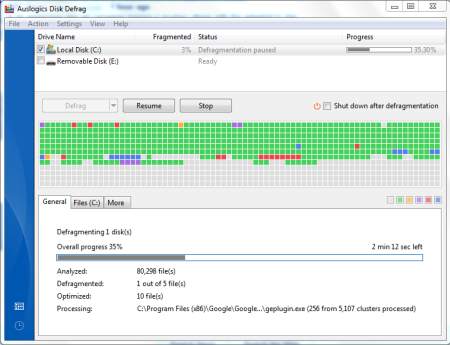 If this program cost $50 I'd have no hesitation in recommending it. As it's free, you'd be an idiot not to try it, along with the other goodies on offer.
It's not just the best free disk defragger in the world, it's the best at any price.