It seems everyone these days is trying to get consumers to watch web content on their TVs. Digital video outfit DivX – a division of Sonic Solutions – is no exception.


On Thursday, the company announced a new "comprehensive entertainment service" to do just that, under the original title of DivX TV.



DivX TV purportedly boasts a whole host of new web content (like exclusives from Funny or Die.com) and is currently is available on LG Electronics' Blu-ray Disc players and home theater systems, just in case any of you think that's a good enough reason to pop down to your local Best Buy to pick one up, or order one from Amazon.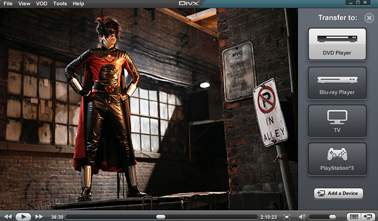 Also announced today is DivX HiQ's new software that lets users experience standard video content sites like YouTube, using DivX technology.
DivX HQ promises higher performance video with less stuttering and less strain on your device's battery, which is useful for long car trips.



Of course, if watching clips of a salsa dancing dog or prenatal pole dancing on Funny or Die aren't your thing, DivX says it has a "growing library of more than 10,000 high-quality videos," for your perusal pleasure. 


Helpfully, the company lists its other available genres as "automotive, business, how-to, humor, music and more."



The service also boasts the capability of being able to power the distribution of any video content, including premium services, which it hopes make it a one-stop shop for consumer electronics companies and retailers looking to provide on-demand access to popular Internet videos, original web programming, and customized content.



DivX says its DivX TV offering is easy to integrate into virtually any connected device at the chip level and that the service can also be used to "complement and enhance existing over-the-top content or application platforms."
In other words, even if you use something else to pull your digital content to your device, you still may want to run DivX, just for kicks.



A helpful feature touted by the service is that DivX TV is also customizable. 


This means users can bookmark their favorite shows and create personalized channels across all sources with saved searches, a nice option for anyone rocking multiple devices. 

Indeed, DivX is firmly pushing its "three screens" strategy to provide content not just on the PC, but the TV and mobile too.



The firm says DivX TV also serves as a complement to Sonic's RoxioNow platform, which enables direct device access to paid Hollywood entertainment, in a sort of digital pay-per-view model.



According to Sonic, over 350 million DivX devices have already shipped.



The firm will be showing off its wares at the Consumer Electronics Show (CES) in Vegas this January.