Weather Decision Technologies announced today that hurricane emergency alerting is now a part of the iMapWeather Radio app.


It is available for the iPhone, iPad and iPod Touch.



The 2011 hurricane season is officially under way and iMapWeather Radio could be an important survival tool, as long as the storm doesn't knock communications networks down. It provides pinpointed alerts of approaching danger on a user's mobile device.



"Meteorologists are saying this year's hurricane season could be very dangerous," said Mike Eilts, President and CEO of WDT. "It is important for families to be as prepared as possible to combat the severe weather associated with hurricane landfall, and with the iMapWeather Radio app, they are getting early and location-specific warnings day and night about danger coming their way."



iMapWeather Radio shows severe weather layers including the "cone of probability" for hurricanes nearing landfall. Users are able to view the cone relative to their current and saved locations and receive weather warnings like hurricane winds, watches and warnings. Since hurricanes can also create other forms of ferocious weather, the application also delivers additional alerts such as flash floods, severe thunderstorms and marine warnings.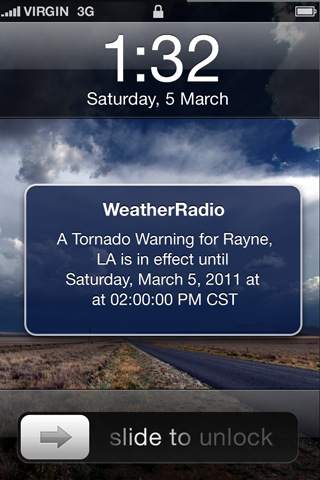 iMapWeather Radio is an extremely cutting-edge weather radio app for the iPhone, iPad and iPod Touch, giving information on dangerous weather like tornadoes, floods and hurricanes with accurate location-based text and voice alerts. The app wakes the phone up from a dormant mode and provides an early voice warning to help people and families find safety – even in the middle of the night, or if the power goes out.
With "follow me" alerts, users are informed of severe weather danger in their precise location and up to five extra locations allowing them to track family or property that might be in the area of a dangerous weather system.
iMapWeather Radio launched on May 3rd of this year and thus far, there have been over 200,000 downloads of the app and over 3 million emergency alerts sent to users.
The iMapWeather Radio app can be had for $9.99 from the App Store on all iPhones, iPads and the iPod Touch. It should also be available at the Android app store for Android devices later this year.