San Francisco, Calif. Microsoft has launched a virtual war of attrition against Google by introducing Visual Search for Bing. The Redmond-based behemoth is clearly hoping to lure surfers away from a traditional Google search environment to one that is visually oriented.

"A study conducted by Microsoft Research shows that consumers can process results with images 20 percent faster than text only results. So it's clear that images play a big part in helping consumer's with a variety of search activities," spun Microsoft spokesperson Todd Schwartz. "We have taken this to heart with Bing's new Visual Search feature [which is] is a new way to formulate and refine your search queries through imagery, particularly for sets of results that tend to be more structured."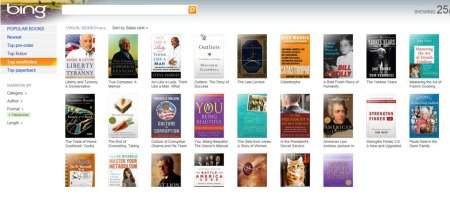 Schwartz explained that the data groupings are known as "galleries."
"Simply go to www.bing.com/visualsearch and install Silverlight if you don't have it already. What you'll see is an amazing new visual search experience. Visual Search allows you to quickly scroll through the galleries or do a one-click refinement using the quick tabs on the left, which are specifically relevant to the type of results you are browsing through."
According to Schwartz, Bing's visual interface can be used to improve product searches, book queries and potential car purchases.
"Holiday shoppers Visual Search can help you look for products from laptops to handbags. It's like searching through a large online catalogue. [And] you can search visually to find the best books faster. Again you narrow your results with 1-click filters such as author, format, or category to make it even easier to judge a book by its cover," added Schwartz.
"Visually searching for cars is like going to a massive virtual car showroom, you can search to your heart's desire by simply clicking through the aisles. It saves a lot of time versus having to keep typing in all those search queries.