Staff at Best Buy stores are being trained up ahead of the Windows 7 launch. Amazingly, the course materials supplied by the software giant are designed to show its products in the best possible light.
An employee of Best Buy has posted screenshots of training materials supplied by Microsoft ahead of the Windows 7 launch on October 22. As a reward for undergoing the training, staff are being offered a cheap copy of the new OS, which the anonymous informant boasts he's planning to sell for a quick buck, despite it being a NFS (Not For Sale) copy.
The software giant has admitted that the material is genuine and that this sort of stuff happens all the time, adding: "Microsoft works with its partners to help them prepare to sell our products in a competitive marketplace," said a spokesman.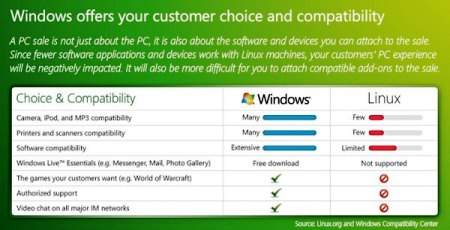 The screenshots are available over on the Overclockers Network site and advise staff of the pros and cons of Windows 7 compared to Linux. Unsurprisingly, the Microsoft training materials advise that the Microsoft product is the best choice for customers.
While this type of internal and partner training material is exactly the sort of thing that all companies have done since time immemorial, bloggers and fansites are naturally billing it as the most evil thing in the history of evil ever.
Critics point to 'facts' such as the claim that World of Warcraft doesn't run under Linux as being false, because it can run under the Wine Windows emulator, but it wouldn't take a terribly-skilled lawyer to point out that the statement is factually correct – WoW can't run directly under Linux.
At worst, Microsoft's claims can be described as misleading, but that's what marketing is all about.
Intel produces stuff like this knocking AMD and AMD does the same in reverse, so why everyone is feigning shock and amazement that the MS marketing department reckons its products are better than the competition is a bit of a mystery. Are we to ignore the billions of 'fact'-packed pixels spouted by Linux supporters saying their favourite OS is the best and denigrating MS?
Perhaps the next move will be for the European Union to demand that Microsoft gives rival products equal billing on its internal marketing material.
Pop on over here to see the full weight of righteous indignation in full flow.