Chicago (IL) – Although Firefox 3.5 (formerly Firefox 3.1) is still in beta, Mozilla is already developing Firefox 3.6 code-named Namoroka (a Madagascar national park.) Slated for an early-to-mid 2010 release, the browser will be marketed as Firefox.next (FX) moniker
in a nod to new technologies set to take Firefox to the next
level. Speed remains the paramount focus, especially in
terms of user interface improvemens, startup time and tab handling.
There is also a better integration with the host OS and web apps, new personalization and
customization features, souped up tabs management. An all-new tasks-based navigation should keep feature-hungry users happy. The first
nightly build that dropped late last week provides us with an early
glimpse of exciting FX improvements.
SLIDESHOW:
Firefox 3.6 – Firefox Next
Pre-Alpha 1 (12 pictures)
Firefox developers tout
"dramatic" speed increases on startup (>50ms), reduced memory requirements and JavaScript optimizations as key features of the new browser. In combination with the updated Gecko 1.9.2
layout engine (1.9.1 in Firefox 3.5), we can expected the race between Google Chrome and Firefox to remain interesting. The first 3.6 build delivers tab thumbnails and supports
dragging of individual tabs between browser windows as well as an upcoming feature that will allow users to save and load groups of tabs. Selecting Ctrl + Tab
shows a serach box that overlays the opened tab thumbnails and helps users to narrow
down the list of groups. The bookmark and download managers will get bulk tagging
support and file-related tasks (copy, move, etc.), respectively.
A smarter location bar
A
new privacy setting enables users to set suggestions for history items and
bookmarks. Suggested items can be removed from the location bar without deleting them
from the system. Enhanced support for web apps and the ability to save
pages as web apps will allow FX to act as "the intermediary between web applications and the user's OS desktop," Mozilla claims. FX will
integrate with OS X Dictionary, Services menu, AppleScript and Keychain
(to store passwords), while natively supporting Windows 7, Aero Glass and
Aero Peek looks.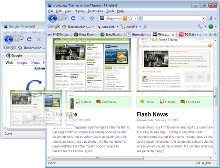 TAB THUMBNAILS
Firefox 3.6 enables tab thumbnails and a new thumbnail-based UI during the tab switching through a Ctrl + Tab key combination. Also planned is the ability to save and restore a group of tabs.
[Click for slideshow]


Experimental add-ons now standard
FX will integrate the currently experimental Ubiquity command infrastructure, now called Taskfox. Basically IE8's Web Accelerators on steroids, Taskfox will
extend the browser's functionality with user-generated mashups that perform
common web tasks like mapping a location or defining a term, without
the need to visit another web site. Taskfox will also expose itself to a
location bar, enabling users to combine complex mashup-based queries (see
gallery for early concepts). Personas is another experimental project that will come with FX to
provide support for lightweight UI theming.
BETTER THEMING
The experimental addon called Personas will come built-in with Firefox
3.6. It enables light-weight theming capabilities that do not require
programming knowledge . Firefox 3.6 will also get
a new about:me personaliztion portal that will serve as the central hub
for a user's personalization settings.

[Click for slideshow]
The underlying XUL platform will support UI
animations, as well as add-on and theme changes without the need to
restart the browser. An entirely new identity management will customize FX's behaviours based on personal history, packing a new about:me personal portal. The existing online syncing of browser and addons settings via Weave, in addition to geolocation features, complete the long list of new features in FX.
You can download the latest Firefox nightly build here. Note that these pre-beta releases carry the "Minefield" branding (instead of "Firefox") to indicate their early stages of development. Due possibel stability issues and bugs, these versions should not be used for everyday browsing.