San Francisco (CA) – Facebook has confirmed that it will offer personalized usernames and corresponding URLs.
"From the beginning of Facebook, people have used their real names to share and connect with the people they know. This authenticity helps to create a trusted environment because you know the identity of the people and things on Facebook. The one place, though, where your identity wasn't reflected was in the Web address for your profile or the Facebook Pages you administer," explained Blaise DiPersia in a company blog post. "The URL was just a randomly assigned number like 'id=592952074.' That soon will change."
According to DiPersia, the personalized usernames will "make it easier for people to find and connect with" members.
"When your friends, family members or co-workers visit your profile or Pages on Facebook, they will be able to enter your username as part of the URL in their browser. This way people will have an easy-to-remember way to find you. We expect to offer even more ways to use your Facebook username in the future," added DiPersia.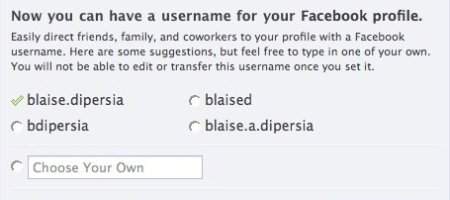 Members are expected to begin choosing their usernames at 12:01 a.m. EDT on Saturday, June 13. Although names will be available on a "first-come, first-serve basis," Facebook has provided specific contact information for page administrators and individuals interested in preserving trademarks or other "protected" phrases.
The Palo Alto-based company also warned members that it would prevent the alteration and transfer of usernames.