San Francisco (CA) – Corel has introduced a digital studio suite designed specifically for home users. A Corel spokesperson told TG Daily that Digital Studio 2010 "removed barriers" and provided individuals with the ability to create and share videos or pictures in "just minutes."

"We developed Digital Studio 2010 for families that want to share their photos and videos without spending hours on the editing process. Although the UI (user interface) is easy to navigate, the application is quite complex and powerful with multiple options," said Nick Davies, a senior VP at Corel. "Our tools allow users to improve their raw footage and photos for quick uploading to various social networking sites, including Facebook, YouTube and Flickr."
Davies explained that PC photo and video editing is often perceived as a complex and difficult process. However, Digital Studio 2010 has attempted to reverse such stereotypes by providing a "fun and engaging environment" for users.
"Whether you are making one-click fixes to your photos and videos, creating a photo book, making slideshows or home movies complete with your own soundtrack, or burning high-definition DVDs, you'll enjoy the same elegant look and feel across the Studio. Once you learn how to do one task, you'll quickly know how to do them all," added Davies.
Davies also noted that Studio 2010 was optimized for Windows 7.
"Users can take advantage of the Windows 7 Touch feature to easily rotate, resize and edit their photographs. In addition, users can actually flick virtual photobook pages with their finger," Davies said.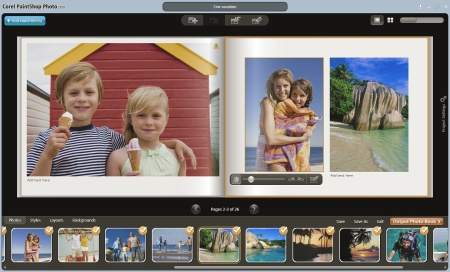 Corel Digital Studio 2010 is priced at $100. However, individual photo and video components of Corel Digital Studio 2010 can be bought as standalone products.