Microsoft wants to drive home the point that the future of its software business exists across multiple devices.
To that end, the company has announced that its brand new tablet platform Surface will launch on the same day as Windows 8 – October 26, 2012.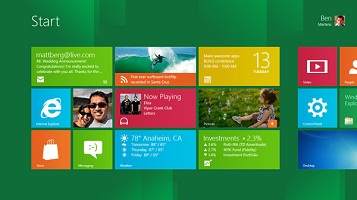 "At that time, we will begin selling the Surface, a series of Microsoft-designed and manufactured hardware devices," Microsoft said in the official announcement, confirming highly cited rumors.
Windows 8 will be unlike any previous version of Microsoft's operating system because it will have a dedicated focus on tablets that will be separate from the standard PC version.
Microsoft has a lot of ambition with Windows 8, and with a complete interface overhaul and functionality up the wazoo, it does have a chance to make a splash.
The most distinct aspect of Windows 8 is what's known as the "Metro UI," which allows users to have complete customization on their home page, including widgets, RSS readers, weather information, date/time, etc.
In addition, since this is such a revolutionary new platform, Microsoft wants to scrap out all remnants of the "old-school" look and feel. Instead of a Start bar, hovering your mouse over that corner of the screen will allow you to swap between the Metro UI and the traditional desktop. For the mobile version of Windows 8, the Metro UI will be the default interface.
Surface will be Microsoft's own first-party line of tablets powered by Windows 8.
So what about pricing details?
"Suggested retail pricing will be announced closer to availability and is expected to be competitive with a comparable ARM tablet or Intel Ultrabook-class PC," Microsoft said.