Google's merged Android Market, Google Music and Google eBookstore to create Google Play, a new cloud-based service that works in much the same way as Apple's iTunes store.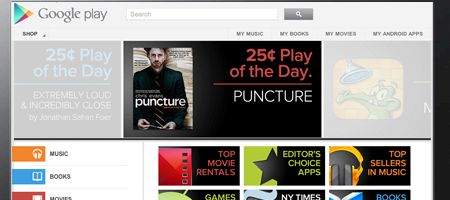 Users will start getting the Google Play Store app over the next few days, allowing them to store up to 20,000 songs for free and buy millions of new tracks, download more than 450,000 Android apps and games, browse eBooks and rent movies.
Users will be able to sign in to their existing accounts in exactly the same way as before.
"Entertainment is supposed to be fun. But in reality, getting everything to work can be the exact opposite—moving files between your computers, endless syncing across your devices, and wires… lots of wires," says Jamie Rosenberg, Google's director of digital content.
"Today we're eliminating all that hassle with Google Play, a digital entertainment destination where you can find, enjoy and share your favorite music, movies, books and apps on the web and on your Android phone or tablet. Google Play is entirely cloud-based so all your music, movies, books and apps are stored online, always available to you, and you never have to worry about losing them or moving them again."
Not everybody will get the full service. In the US, music, movies, books and Android apps will be available, but in Canada and the UK, it'll just be movies, books and Android apps.
Australian users will get books and apps only, and the Japanese, movies and apps. The rest of the world will have to make do with apps only.
The move sees Google Play positioned squarely against Apple's iTunes store, which is already a one stop shop for music, movies and books. Google's in the past kept things separate, reducing its chances of picking up impulse purchases.
Google's been big on consolidation recently – let's hope Google Play proves a bit less controversial than the company's recent move to consolidate all its user data with a single privacy policy.