Twitter's had a major redesign, aimed at making it faster, easier to navigate – and more attractive to advertisers.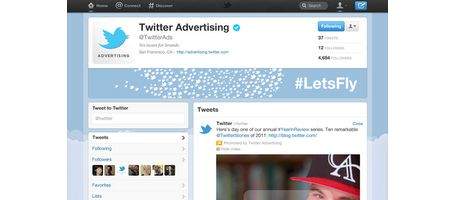 The new look is consistent across Twitter itself, iOS, Android and the TweetDeck desktop app. It now includes a section called 'Stories', displaying to the user stories and trends based on earlier activity.
A Connect tab shows users who's following them or retweeting their tweets, and Discover is basically a rebranding of hashtags, but with more personalization.
The Home tab displays incoming tweets, allowing them to be expanded to view photos or videos. Profile pages now feature a larger header image for the user's logo, tagline or other visuals.
"You can also control the message visitors see when they first come to your profile page by promoting a Tweet to the top of your page's timeline. This Tweet helps you highlight your most engaging and important content and better connect with your target audience," says Twitter.
"The Promoted Tweet on your profile page will appear auto-expanded so that visitors to your page can instantly see the photo or video content that you link to from your Tweet."
The redesign is the brainchild of executive chairman Jack Dorsey, who rejoined the company earlier this year. It's designed to appeal more to advertisers, with companies now getting landing pages similar to those in Facebook, and showing bigger header images and sticky tweets that stay in top position on their timeline.
Twitter's signed up 21 advertisers for its new profile pages, including American Express, BestBuy, Intel, Pepsi and McDonalds, and says it plans to include more in the coming months.
The new design is available immediately for iOS and Android users, and will roll out to everybody else over the next few weeks.