Wrike software for project management is well known as one of the most user-friendly and feature-rich project management tools available. However, to truly maximise the value you are getting from your subscription, you really need to leverage some of the 35+ integrations that are available with other useful tools. Many of the online and desktop applications and tools that you and your team members use on a daily basis can be integrated with Wrike.
Integrations allow for greater efficiency, since your team can use all their favorite tools without jumping between applications or dozens of browser tabs. Wrike essentially acts as the main control center, synchronising all of your tools. There are dozens of applications that Wrike can already integrate with, and there are even more integration possibilities made available through their open API.
Here are 5 key tools in particular that you should integrate with Wrike for greater work efficiency:
1. Google Drive
Wrike integrates directly with cloud file storage services, including Google Drive, so your team can attach files and documents directly from Google Drive to a task in Wrike. These files can then be accessed and edited by project members without having to download them first, and the updated version is automatically saved. This is especially useful for creative work like a , where it's clear which is the latest, approved version of a creative asset.
Team members can even create a new Google Drive file from within Wrike and immediately attach it or associate it with a particular project.
2. Harvest
Harvest is one of the most popular online time tracking tools, and is an especially valuable software for creative agencies. It is critical for tracking employee time spent on a project and for managing billing, making it is an essential tool to integrate with Wrike.
By integrating Harvest with Wrike, project managers can get a complete view of every aspect of project performance and execute more effective resource and cost management.
3. Outlook & Other Email Clients
This is the core integration that project managers just really cannot live without. Wrike integrates with Microsoft Outlook and other popular email clients enabling users to create, assign, and edit tasks right from their inboxes.
Users can schedule or reschedule tasks, attach documents, leave and respond to comments, and so much more, without ever leaving their email.
4. Microsoft Excel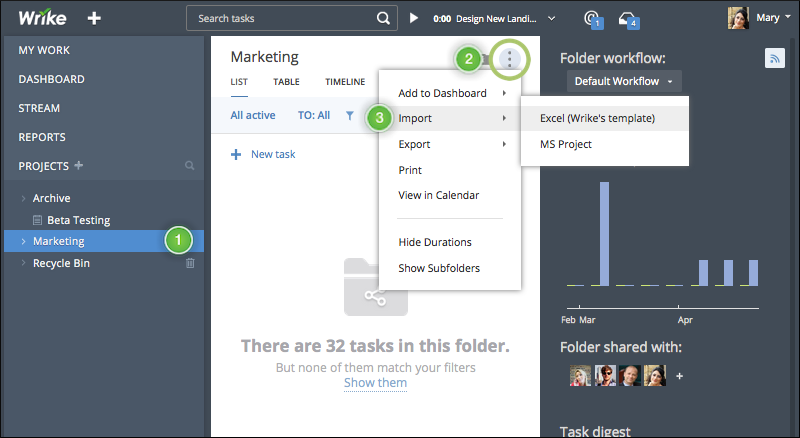 If you have traditionally managed projects and resources using Excel spreadsheets and are now making the switch to using an online project management tool, it can be a lot to get your head around at first. However, Wrike makes for a smoother transition by offering the ability to import and export your Excel spreadsheets.
This integration can prove really effective in the initial trialling and changeover to Wrike, as you can still access, edit, refer to and share your previous Excel project management templates within the tool.
5. Slack
Slack has completely changed how modern teams collaborate and communicate. The real-time messaging, archiving and search functionality of Slack can also be integrated with the Wrike project management tool.
Your team can always stay up-to-date and on top of Wrike assignments. As soon as a new task is assigned to them in Wrike, they will immediately receive a Slack notification. You can also create a Wrike task really quickly straight from Slack.
Wrike is already a powerful software for project scheduling and management, with a built-in maker, , and comprehensive project management tracking tools. Get even more benefits of using Wrike for your team and your organisation by enabling these 5 key integrations, and reap the rewards of even more and efficient collaboration and project management.