Review – I recently got my hands on an iZel, a lightweight stand for most mobile devices that you can use when you need to keep your phone or media player in an angled position and simply don't want to hold it all the time. It's a clever design and it may be just what you are looking for, but it isn't cheap.


Let's get my only complaint out of the way first. I am sometimes surprised how much I am willing to pay for accessories for my iPod – the iPod jacket I purchased for running was a stunning $40 and I get hardly more than a few pieces of plastic. No matter how clever the design of the iZel is, its price of $25 is also the main criticism. When you hold it in your hand for the first time, you may wonder if most of your money went into the packaging or the device itself. At least you know that it was manufactured in the U.S. and not in China, which may make you feel better about the expense.
However, the iZel is as good as such a device can be. It weighs about 1 1/8 ounces, and folds flat to a height of ¼ of an inch. It is built using a black/grey rubber/plastic material combination, which ensures that your mobile device sits safely on most surfaces. You can fold it to its operational position in less than five seconds and safely place virtually any mobile device on it. Its base is very sturdy and supports weights of more than 20 pounds in its standard configuration. There is a movable stand in the back of the device, which lets users adjust the viewing angle. If the stand is pulled out, the supported weight drops to about 2 pounds.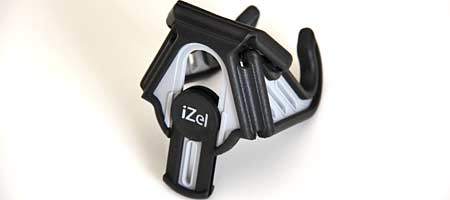 Other than indicated by the name, the iZel is not just for iPods or iPhones – even if the device is most useful when you are watching movies, for example in an airplane. However, you can also use it as a stand for a Nintendo DS or a regular smartphone. I personally got used to placing my Blackberry on it on my desk – even if I have to admit that, for this purpose, the iZel is a bit pricey.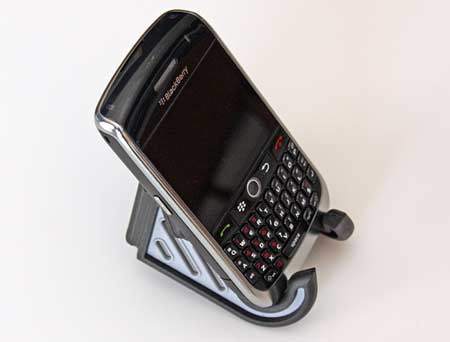 However, if you are using your media player for watching videos, especially while travelling, then the device is about as good as it gets and those $25 may be money well spent. In the end, you can bring it along even when available space in your carry-on or brief-case is tight – and you won't notice its weight and size. Nicely done.