Huge, hideous cellphone masts could be on their way out, says Alcatel-Lucent, which has developed a replacement technology that fits in the palm of the hand.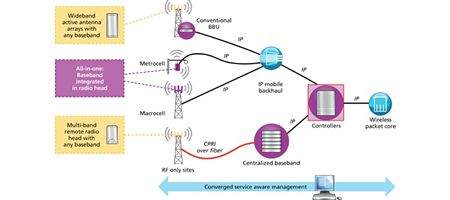 The lightRadio system is based on a new architecture where the base station – generally found at the base of each cell site tower – is broken into its component elements and then distributed into both the antenna and throughout a cloud-like network.
And as microwave backhaul and compression techniques improve, says Alcatel-Lucent, the technology could eventually mean broadband coverage virtually anywhere there's power – and solar power's fine – by using microwave to connect back to the network.
LightRadio can handle 2G, 3G, and LTE systems through a multi-standard Wideband Active Array Antenna that can be mounted on poles, the sides of buildings or anywhere else there's power and a broadband connection.
It's claimed to reduce the energy consumption of mobile networks by up to half – and also to halve the total cost of ownership of a mobile network.



"LightRadio is a smart solution to a tough set of problems: high energy costs, the explosion of video on mobile, and connecting the unconnected," says CEO Ben Verwaayen.
A number of mobile operators have expressed interest already. Alcatel-Lucent has been talking to Verizon and China Mobile, along with several other carriers.
"Alcatel-Lucent's new vision and strategy of mobile broadband is quite exciting: the new wireless network architecture and innovative radio proposal will potentially help us to achieve significant operating cost savings and be better prepared for future challenges," said Alain Maloberti, senior VP for network architecture and design at France Telecom/Orange.
"We look forward to work closely with Alcatel-Lucent to explore and test this new approach."
The company expects to start customer trials in the second half of this year.