So you've got a 3D TV, 3D computer, 3D Blu-ray player. You've put your pre-order in for your 3DS and you're taking pictures with your new 3D digital camera. Isn't it time you got a 3D phone?
LG thinks so, and has become one of the first to promise an actual working phone with glasses-free 3D technology.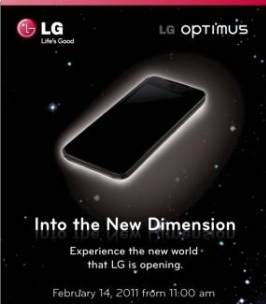 At least, that's the assumption based on an invitation the company has begun to send out. At next month's Mobile World Congress in Barcelona, Spain.
The invitation reads, "Into the New Dimension. Experience the new world that LG is opening." This can't be anything other than 3D phone.
It's also stamped with LG's Optimus logo, so the 3D device looks to be part of that high-end line of the company's smartphones.
The Mobile World Congress always gets a moderate amount of attention, but this year it's expected to be huge as big advancement in mobile network technology, mobile games, and mobile 3D are pushing through in 2011.
Glasses-free 3D seems to be the big trend this year, but critics say it only really works on a smaller scale and if you're looking at it from a perfect angle, like right in front of your face. Well, mobile phones sound like the perfect category for something like that.
The LG event will take place on February 14, so if you really want to take your valentine to something special…well, you'd better both be mobile industry insiders and planning to be in Spain next month.
Expect a whole lot of other big mobile news around that same time frame as well.