Lenovo launched a new workstation line this week, the ThinkStation PX, P7, and P5, in partnership with Aston Martin which designed the case. The result is a powerful solution that even Q, the famous armorer in the James Bond books and movies, would likely give his eye teeth to own. The top configuration, the ThinkStation PX (a truly awesome workstation), has two of Intel's most powerful Xeon W-3400 CPUs and four of NVIDIA's high-octane RTX 6000 graphics cards. The result is so insanely potent it will likely require a dedicated 20 AMP circuit to run. 
And I expect an AMD Threadripper version of this is coming. We'll talk about why AMD doesn't have a graphics solution that is in the Threadripper class because I expect that system will also feature NVIDIA graphics.
Let's talk about why this Aston Martin-designed ThinkStation is so interesting.
Why Aston Martin?
Other than the lust factor connected to the brand, Aston Martin has been using Lenovo workstations for some time. Lenovo was able to surprise the market with its earlier AMD Threadripper workstations that featured vastly improved performance, meaning Lenovo pretty much owned the highest-performing workstation segments.  
The reason those segments are important is because, unlike most PC users, engineers specify their own hardware. But IT departments like standardized purchases from one vendor so they don't have to manage a bunch of relationships. Since the highest performing laptops are given to those with who contribute the most to the company, engineers, they often determine who the preferred vendor is for all the workstations in the company.
This isn't true of PCs. IT still largely drives those choices, but for workstations, performance is king, and Lenovo's sharp focus on performance has made it the company to beat in the workstation space. Aston Martin has two three major benefits. Thanks to the James Bond franchise, it is one of the most recognized, performance-oriented, premium brands. Aston Martin is known for both attractive and high-performing products, and it uses Lenovo workstations.  
This last means that Aston Martin is not only a designer but a user of these workstations. It recognizes that the success of the line will have implications for much of what the company does in terms of timely car designs and race performance. So, designing these workstations has greater importance than just sharing the brand. It makes Aston Martin more competitive in its primary market and in races, as well.  This provides a unique motivation to create the best product. Anything less would hurt both Lenovo and Aston Martin.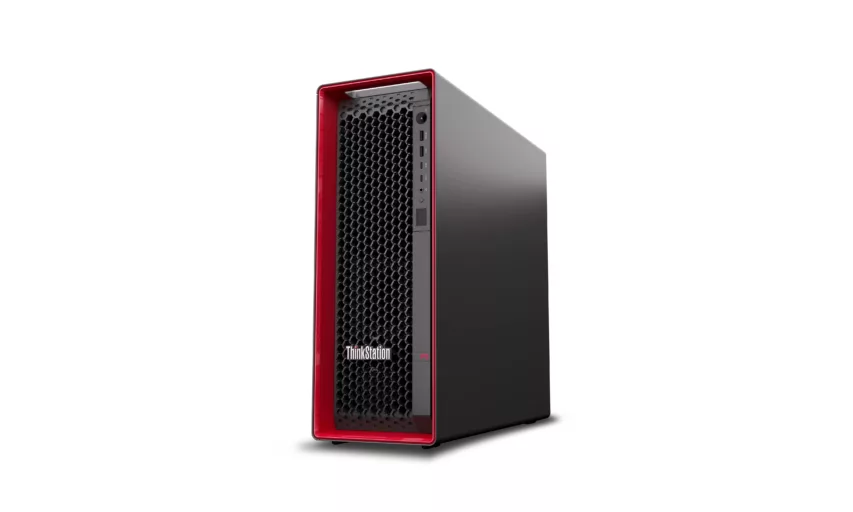 About Lenovo's ThinkStation workstations 
The new ThinkStations come in three basic configurations:
the entry-level ThinkStation P5 with one Xeon W-2400 processor up to 523 GV of RAM with ECC, and up to 24 cores with up to 2 NVIDIA RTX A6000 cards up to 36 TB of storage and either a 750- or 1000-watt power supply,
the ThinkStation P7 which comes with a Xeon W-3400 with up to 56 cores, up to a TB of ECC RAM, up to 36 TB of storage, and a 1000 to 1400 power supply,
and, finally, the ThinkStation PX, which has 2 Xeon processors and up to 120 cores, up to 2TB of ECC RAM and up to 48 TB of total storage.
All three ThinkStation configurations have Wi-Fi 6E wireless connectivity and a huge number of ports.
Obviously, the ThinkStation PX is the ultimate workstation and should be available by May of this year.
Wrapping up: What? No missiles or machine guns?
When we are talking about Aston Martin and the connection to James Bond, it isn't hard to lament that there are no missiles, machine guns or ejector seat options for this workstation. But Q would be the one to use the PX, not Bond. So even though the workstation lacks weaponry, Q would be dazzled by the incredible performance. The PX delivers that in spades.
It'll be interesting to see what the competitive response is, but, for now, on paper the Lenovo ThinkStation PX fully loaded should be the performance king, which is beneficial for Intel, as well, since it has lagged AMD of late. For me, just the thought of something I could afford that has the Aston Martain connection caught my attention. I have lust for Aston Martin's new SUV that was featured at the launch event. Unfortunately, participants weren't allowed to ride in it. And given it has a top speed approaching 200 MPH and 707 HP with a 0-60 of 3.3 seconds, I really wanted to ride in the thing. Maybe next time. Until then, I can just admire the look of Lenovo's new ThinkStations as I look for them and that new SUV.