According to the latest benchmark tests, Sprint's upcoming 3D phone can beat everything else on the market.
The Evo 3D comes with a Qualcomm MDP MSM8660 chip, which uses the latest in dual-core processor technology. The chip can clock up to 1.5 GHz, making it as fast as any other mobile device available now.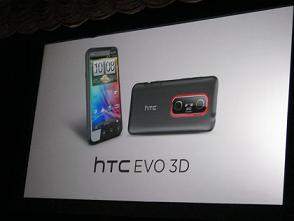 We heard Sprint tout the features of the Evo 3D at CTIA last month. The company wanted to be clear that users realized it wasn't just a great 3D phone, it was a great phone. Period.
Qualcomm has made great strides in advancing mobile processing technology this year. In addition to introducing dual-core chipsets, the company says it is optimizing the tech to make mobile gaming so powerful, it will be possible to have the power of a PS3 game on a smartphone by the end of the year.
The Evo 3D is sitting on top for now, but seeing how quickly the technology is growing, don't expect that to last long.