Maingear has unveiled a personal "supercomputer" for PC gamers and enthusiasts. The Shift – which is housed in a tank-like steel skeleton – dissipates excessive heat with bottom to top airflow, aggressive liquid cooling and a 90 degree rotation of the motherboard.?


The Shift also features user accessible expansion slots, eATX motherboard support, full sized 5.25″ optical drives, multiple SATA HD configurations and room for up to 12 SSDs.?
In addition, users can configure the Shift to fit their personal specifications by choosing an Intel processor (Core i7/Xeon) and selecting an Nvidia or ATI GPU.?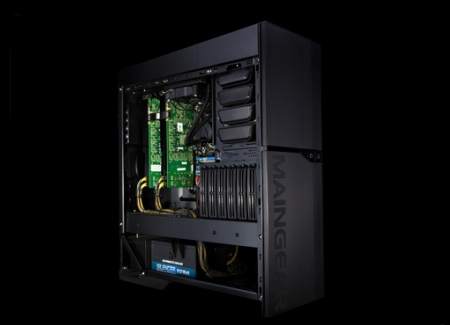 Additional specs include:?

Silverstone power supply – up to 1.2KW.
Closed-loop watercooling – up to 4.GHz.
Kingston HyperX memory – up to DDR3-2000 @ 2000MHz.
Windows 7 – 64-bit support.
The Shift base price is currently set at $2,199.