In September, TG Daily reported that LucidLogix had redefined multi-GPU gaming with the introduction of its Hydra 200 parallel processor. Indeed, the second generation SoC works with any GPU, CPU or chipset to provide scalable 3D graphics performance in a multi-GPU computing environment.
?
We recently caught up with Lucid representative Kimberly Stowe, who confirmed the Hydra's upcoming launch. During a wide-ranging interview, Stowe also spoke about the SoC's performance, Windows 7 compatibility issues and the company's relationship with MSI.
TG Daily: Various reports and previews seem to indicate that the benchmark results of the Hydra 200 are quite similar to those of SLI and CrossFire. Can Lucid be expected to improve the Hydra's performance?
Kimberly Stowe: "Lucid has a clear roadmap that includes additional features and continued performance enhancements. One important issue in the performance perspective – we reached this performance without the need for technical assistance from the game developers."
TG Daily: Can you provide an update regarding the development and delivery of the Hydra 200?
Kimberly Stowe: "Hydra 200 hardware is solid and we are continuing to improve performance and compatibility for Windows 7. Most importantly, our goal is to provide a product that delivers a good experience to the PC and gaming communities.
"It is important to note that Lucid drivers have been WHQL certified. In addition, we do plan to support DirectX 11 and are currently completing extensive testing of Direct X 9 and Direct X 10 games. So, we are looking forward to motherboards reaching consumers by Q1 2010."
TG Daily: Can you tell us a little about Lucid's relationship with hardware vendors?

Kimberly Stowe: "Other vendors are in different stages of development using the Lucid Hydra technology. The vendors will announce [products] based upon their marketing plans and we are expecting it to be soon."
TG Daily: What about MSI?
Kimberly Stowe: "Well, there has certainly been quite a bit of confusion surrounding our relationship with partner MSI and why the product has been delayed until Q1 2010. So, I'd like to take this opportunity to clear that up.
"At IDF, Lucid and MSI announced the availability of the Hydra 200 in Big Bang Motherboards on October 29. Up until that date, Lucid had met all requested MSI hardware and software requirements.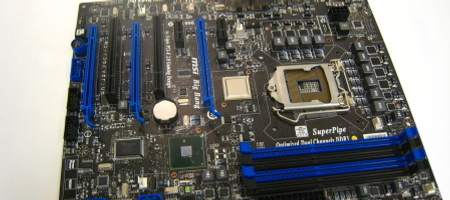 "However, MSI has since revised their launch contents and plan. We are happily supporting them. At this time, we are responding to our customer's request and are working at full speed with them to deliver a feature-rich product that they will deem consumer-ready. We are confident that we will be able to meet MSI's requirements in a timely manner."

TG Daily: Any closing words?

Kimberly Stowe: "Lucid Hydra technology is clearly a new innovation in the graphics category that has generated a great deal of interest. It should be an exciting year ahead for us."