Santa Clara, (CA) – Intel is scrapping its 45nm Havendale chips before they even entered volume production in favor of moving straight to the 32nm Clarkdale.
Sources at the chipmaker told Digitimes that the 32nm process was going better than anticipated, allowing them to move to the smaller process ahead of schedule.
As a result, Intel has canceled production plans for the 45nm Havendale CPUs which were originally scheduled to arrive at the end of this year and will instead launch the 32nm Clarkdale in Q1 2010 targeting the entry level and mainstream markets with prices ranging from $60-$190.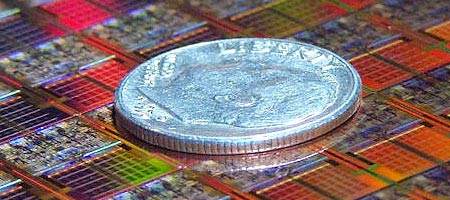 Intel has also issued updated end of life (EoL) and product discontinuance notices (PDNs) for a number of its current products. CPUs to be phased out in the second half of this year or Q1 2010 include the Core 2 Extreme QX9775, Core i7 940 and several Core 2 Quad, Pentium and Celeron CPUs.
Intel will issue a PDN for the Atom 330 and 220 in April 2010, according to sources at motherboard makers.
See also:
Centrino! Intel kills off platforms