The only company to offer external MacBook batteries and chargers has been forced to take its products off the market following legal pressure from Apple.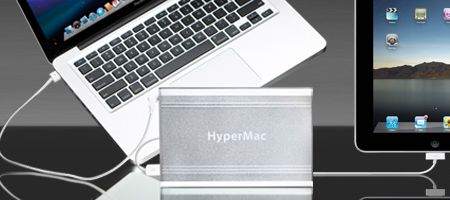 Apple served HyperMac, part of China's Sanho Digital Electronics, with a patent infringement lawsuit last month, alleging that it was using the patented MagSafe power connector and 30-pin connector for the iPhone and iPod dock without a license.
The lawsuit covers six patents, which Apple says are violated by HyperMac's magnetic power adapters, MBP-PRO, MBP-AIR and a MacBook car charger dubbed MBP-CAR, as well as chargers including the HyperMac Nano, HyperMac Micro and HyperMac Mini products. The charging kits were claimed to extend the battery life of a MacBook by as much as 32 hours.
Now, Hypermac has announced that it plans to stop selling the devices from November 2.
"While we will continue to sell the same batteries together with the rest of our product line after November 2nd, they will not be able to charge MacBooks without the cables," the company warns its customers.
"If you wish to get the world's only external battery and car charger solution that works with all MacBook, MacBook Air and MacBook Pro (supports dual voltage) as well as the iPad, iPhone 3/3GS/4, iPod and all other USB devices, now is the time."
But the products may not be gone for good. Apple told HyperMac that, as long as it halted sales of the offending products, it would negotiate on a licensing deal.