At 1:00 PM Eastern Time today, the hotly anticipated upgrade to the iPad will go live for the tens of millions of people out there with one of these gadgets.
This is perhaps the biggest sweeping upgrade to Apple's line of mobile products yet, because of the scope of the new features and the amung of time people have waited for them.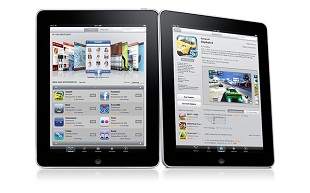 The first, most important part of the update is multitasking. Finally, iPad users will be able to have multiple apps opened at the same time, allowing users to cycle through them with a new interface.
Next, there's the addition of folders, allowing iPhone and iPad owners to more easily organize the dozens and dozens of apps they've amassed.
Also, users will now get the MobileMe service for free, which makes it easy to locate a lost iPhone or iPad by remotely enabling its alarm and displaying a message on the screen to deter thieves. It also lets users remotely wipe all data as a last resoirt.
And finally, there's Game Center. This has been increasing in popularity among iPhone games, and now it's coming to the iPad.
It is a huge addition of features for Apple and it goes to show how much inefficiency there was for the iPad even though it was able to sell so many millions of units.
The update should be available to your device by 1:00 PM ET.