When it comes to small form factor media computers, one can typically expect a thin laptop hard drive for storage.
To be sure, most of these machines are so small that manufacturers opt for tiny flash drives that don't offer a lot of storage capacity. Meaning, users typically end up focusing on memory cards for storage expansion.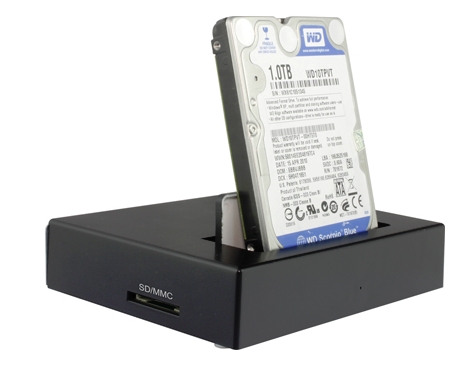 Recently, Cloudsto unveiled its latest small form factor media system known as the Media PC Pro DriveDock. While this machine has a scant 4 GB of integrated flash storage and memory card slot, it also has another storage trick up its sleeve. On the top of this little small form factor computer is a flip up door that reveals a slot where you can plug-in full-size laptop hard drives.
The machine will support up to 2 TB of additional storage by simply plugging SATA drives in on top of the computer. Granted, having a big notebook hard drive sticking out of top of your small form factor computer rather defeats the purpose of having a small device to begin with, but if you have old hard drives laying around and you want to get data off of them it's a nice feature to have.
Other hardware features of the device include an Allwinner A20 dual-core ARM Cortex-A7 processor, 1 GB of RAM and Android 4.2. Connectivity options include a VGA output and an HDMI output.
The machine also boasts four USB ports that support various accessories including controllers, keyboards and a mouse. As expected, the PC Pro is fitted with built-in Wi-Fi and an Ethernet port on the back.
Shipping is slated to kick off in the middle of March for £95, or approximately $141.